Loading...


From WKYC.COM / TV 3
Get the latest school closings and delays
Cuyahoga County



Sunday, October 11, 2015




Report says shooting of Tamir Rice by Cleveland Police was justified




The Cuyahoga County Prosecutor says it commissioned the report to keep the investigation transparent


by WKSU's KABIR BHATIA


Reporter
Kabir Bhatia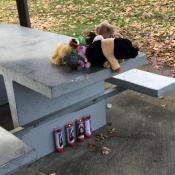 This memorial for 12-year-old Tamir Rice was in place at Cudell Rec Center in Cleveland just hours after last November's shooting
Courtesy of K. Bhatia
Download (WKSU Only)
Prosecutors in Cleveland have released outside reports saying the shooting by police of a 12-year-old black boy last year was justified.
The reports from a retired FBI agent and a Denver prosecutor conclude patrolman Timothy Loehmann had reason to perceive Tamir Rice as a threat before shooting and killing him last November.

The prosecutor says it commissioned the new, independent reports to keep the process transparent, and noted that the city's police union has not cooperated with the investigation. The Cuyahoga County Sherriff's office released its inital report in June.

Rice was holding a pellet gun -- with the orange tip removed -- when Loehmann fired within two seconds after the police cruiser driven by his partner pulled up next to the boy. He had been described in a 911 call as a man waving and pointing a gun.

An attorney for the Rice family questioned the timing of the report -- on a Saturday evening -- saying it seems to be a way for the prosecutor's office to avoid accountability.

Page Options
Print this page
---
---
---
Stories with Recent Comments