Loading...


From WKYC.COM / TV 3
Get the latest school closings and delays
Environment



Monday, November 2, 2015




Part of the Towpath Trail is closing for construction near downtown Akron




A one-mile stretch near the Mustill Store will close, and the detour could be in place for up to four years


by WKSU's KABIR BHATIA


Reporter
Kabir Bhatia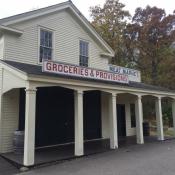 The Mustill Store museum and visitors' center is a popular attraction for Akron Public School students as well as cyclists and passengers from the nearby Cuyahoga Valley Scenic Railroad
Courtesy of KABIR BHATIA
Download (WKSU Only)
One mile of the Towpath Trail near downtown Akron closes today for the next several years to facilitate construction of part of the city's massive sewer overhaul. WKSU's Kabir Bhatia reports.
The sewer project requires digging a giant, $184 million tunnel near downtown to help keep sewage from flowing into the Cuyahoga River and Ohio & Erie Canal.

The work will close the part of the trail that begins at the Mustill Store museum and visitors' center, possibly through 2018. A detour will take runners, bikers and hikers to Hickory Street, which David Kirschbaum -- president of the Cascade Locks Park Association -- says presents unique issues.

"It does take a very steep drop over a section of railroad track that is going to be a little hairy. And hopefully, the park system figures out how to create some S-turns ... so it's not a steep drop for small children trying to ride their bikes."

Kirschbaum adds that the closure might actually make the Mustill Store a little busier.

"We probably need more greeters here to tell people how to navigate this. Everybody gets off the Cuyahoga Valley national train and they're always stopping at the store [asking], 'Hey where do we go? Hey, what do we do?' We're almost Akron's visitor's center, so now we're also going to be detouring people."

Kirschbaum says the Mustill Store will still be able to host educational programs for Akron Public School students. And he hopes to have a new feature ready in time for the trail's re-opening: A re-creation of the stone arch from the original North Street Bridge, using stones saved by the parks' association in the 1990s.

City officials say a second Towpath detour -- at the south end of the new tunnel -- will be set up near Canal Park next spring.
Page Options
Print this page
---
---
---
Stories with Recent Comments