Loading...


From WKYC.COM / TV 3
Get the latest school closings and delays
Science and Technology



Monday, October 5, 2015




Artist captures the faces of Northeast Ohio at IngenuityFest 2015




The 11th annual festival attracted more than three-dozen art-and-tech exhibitors


by WKSU's KABIR BHATIA


Reporter
Kabir Bhatia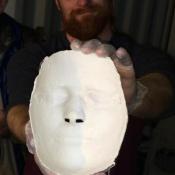 Artist Nelson Morris wanted to capture the basic structure of the human face, unadorned by makeup, wardrobe, hair or skin color
Courtesy of K. Bhatia
Download (WKSU Only)
The 11th Annual Ingenuity Fest wrapped up this weekend, and the festival once again married the artistic and techie sides of Cleveland. WKSU's Kabir Bhatia reports.
The three-day event took place in Voinovich Park, just behind the Rock and Roll Hall of Fame on Lake Erie. Nelson Morris from Stow was making plaster molds of
people's faces for his Thousand Faces Project. He'll be transferring the molds to concrete as a display of Northeast Ohio's diversity.

"I think it shows a side of our face that we don't normally see. Normally, when we look at someone's face, we see the makeup. We see the styles. We see the wardrobe. We don't see the face as just a face. They're all the same color. So we're not seeing the skin complexion. We're not seeing anything other than the structure itself."

Morris will also embed a small electrical circuit in each of the statues. When they're touched, audio recorded by that person will play.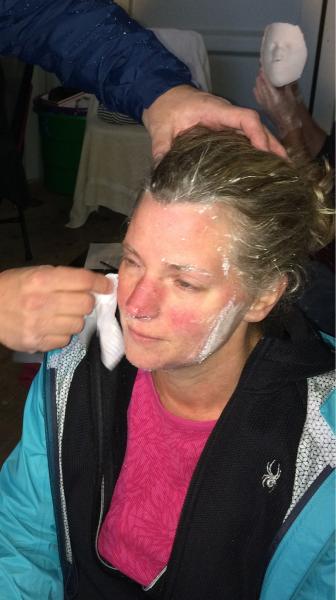 "Normally, a statue's this stagnant, dead thing. We build the statue and it sits there and it gets birds that poop on it.

"But in this case, I wanted to have it be more than that. So, not just with this project but with other projects that I'm working on, I try mixing sound in. And I try mixing in basic technology. Something that's a little bit more resilient that can hold up to nature a little bit more."

Morris was one of about 45 exhibitors who took part in this year's IngenuityFest.
---
Related Links & Resources
IngenuityFest 2005
IngenuityFest 2008
IngenuityFest 2011 (Tech-and-art junkies flock to audio-only video game maze)
IngenuityFest 2014 (Guitars and tech meet at IngenuityFest in Cleveland)
Page Options
Print this page
---
---
---
Stories with Recent Comments