Loading...


From WKYC.COM / TV 3
Get the latest school closings and delays
People



Tuesday, September 15, 2015




Kent launches an interfaith alliance to try to battle racism




The group wants to hear from the community following an anti-racism march last month


by WKSU's KABIR BHATIA


Reporter
Kabir Bhatia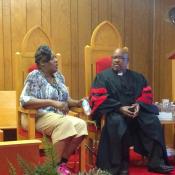 Pastor L.A. Gatewood (right) of Spelman Chapel AME Church in Kent was shocked at the turn out last month for the march against racism
Courtesy of KABIR BHATIA
Download (WKSU Only)
Religious leaders in Kent are holding a public meeting at 11 this morning at First Christian Church to officially establish a new interfaith group to fight racism. WKSU's Kabir Bhatia reports.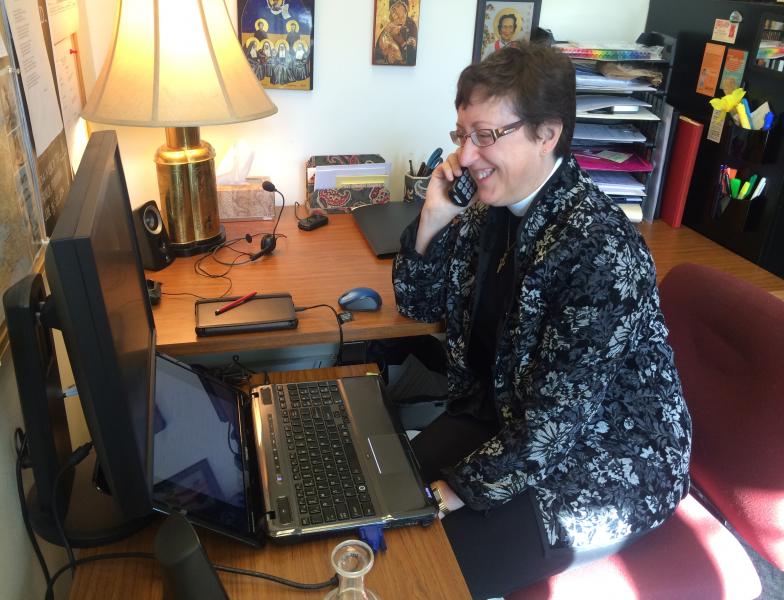 This summer, a study of Google searches involving racially charged terms found Kent to be the most-racist city in Northeast Ohio. That prompted a march against racism last month, and those involved want to keep the conversation going.

Pastor L.A. Gatewood was one of the organizers. He expected about 50 people that day, but more than 400 showed up at his Spelman Chapel AME Church.

"It was a shock. And since that time, individuals have been asking me and approaching me [saying], 'What are we doing next?'"

What now?
The next step is a public meeting organized by the group they're calling the Interfaith Alliance on Reconciliation and Justice.

"One of the things, to get the dialogue going, I'm just going to ask them, 'Why did you come? This is the Kent Interfaith Alliance on Reconciliation and Justice. What made you decide to come here?' That will be a door opener."

The meeting is both for organization and planning -- and to hear what the public needs.

"Every member of the faith community in Kent has a stake in what happens with Kent. Not with just the university but with the city: with the northside, the southside. White churches, black churches. Folks who aren't attending churches. There are individuals from the university."

Town and gown
That includes people like Julie Fisher, priest at Christ Church Episcopal in Kent, and a member of the campus ministers' organization.

"Traditionally, Kent and the university have operated on parallel tracks. I would like to see us operate more as a unified force. And it would be great – as we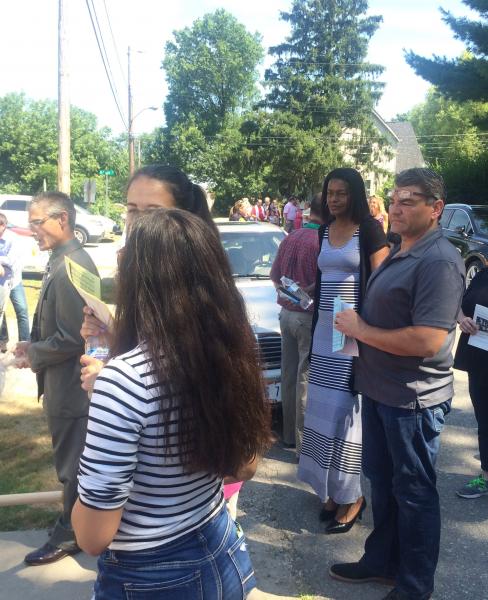 develop our goals and structure for the interfaith alliance – if we partner up with the campus ministries and see about getting the students engaged."

With so many students connected online – and using services like Google – Fisher says the original article on Kent as the most-racist is not a reflection on either the school or the city.

Widening the message but narrowing minds
"As we know, racism will raise its ugly head over-and-over again. Because racism comes from a common human failing: the desire of people to cluster into little tribes of people just like them and to look at outsiders suspiciously. And sadly the internet – rather than broadening our minds in some way -- has made us more narrow-minded as well."

Fisher says it speaks to Kent's diversity that the article about racially charged web searches quickly led to the formation of the interfaith council.

"We'll be hoping for lots of input from the community about what we need to focus on. What needs help? What needs support? We're here for that."

Equal treatment
Fisher was at the first interfaith alliance event at the beginning of August, the march that attracted hundreds of people like Lisa Jividen from Akron. She says she just wants everyone to be treated equally.

"People need to see that we're all God's children. God made everybody. It shouldn't be color. I mean, love has no color."

Lisa is black. Her husband, Kevin, is white.

"I've got great friends who are black. She's got great friends who are white. We work together. And when we let it out that we were starting to see each other, there was a paradigm shift, if you will, within the workplace of people that all-of-a-sudden didn't want to talk to me [or] didn't want to talk to her. Racism exists but I don't understand why."

Pastor L.A. Gatewood, one of the founders of the interfaith alliance, says people want to see changes and that's part of the dialogue at today's meeting.

"They want to see – the next time an article comes out on the greater Kent area – not to be at the top of the racism list [but] not on the list."

While the goals of the interfaith alliance are being developed, one event is already on for mid-October: a two-day retreat with workshops on racism and reconciliation.
Page Options
Print this page
---
---
---
Stories with Recent Comments