Loading...


From WKYC.COM / TV 3
Get the latest school closings and delays
Ohio



Wednesday, May 20, 2015




Expect more canoes and kayaks on the Cuyahoga River this summer




A pilot program partners Kent State's Recreation Department with the Cuyahoga Valley National Park


by WKSU's KABIR BHATIA


Reporter
Kabir Bhatia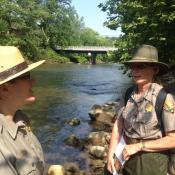 The Nowcast system launched in 2013. Biologist Meg Plona (right) said the metrics for water quality have changed dramatically since the 1980s.
Courtesy of KABIR BHATIA
Download (WKSU Only)
Cuyahoga Valley National Park is partnering with Kent State University to find out whether canoers and kayakers should have an expanded presence on the Cuyahoga River. WKSU's Kabir Bhatia reports.
Canoes and kayaks are allowed on the 22 miles of the river running through the park between Cleveland and Akron. But there are dams and they run the risk of encountering bacteria from sewer overflow after heavy rains. Parks' spokeswoman Mary Pat Doorley says the project is happening now because the river is at its healthiest in over a decade.

"We have been doing testing on the river and actually that has gone live. So visitors can go online and see the status of the river water quality that's Ohionowcast.info. And there's a lot more information available to us to understand the conditions of the river."

Doorley adds that this summer, small groups will head out to see if those obstacles can be overcome, and where people can put-in.

"Where does it make sense? How does it work with the parking? How does it work to enter into the river? ... What's happening in the river at certain bends and certain places."

Doorley cites the return of eagles to the area for the first time in 70 years as a good indicator of the Cuyahoga's resurgence.
---
---