Loading...


From WKYC.COM / TV 3
Get the latest school closings and delays
Courts and Crime



Wednesday, May 6, 2015




Suspect arrested in Cleveland quintuple homicide




The suspect has not been charged or identified




by WKSU's LYNDSEY SCHLEY



Reporter
Lyndsey Schley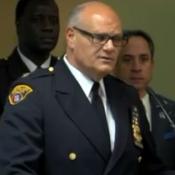 Deputy Chief Ed Tomba says the suspect is a man but is releasing no other information.
Courtesy of WKSU FILE PHOTO
Download (WKSU Only)
Cleveland police have arrested a suspect in a quintuple homicide last November. Deputy Chief Ed Tomba says the department arrested a man in connection with the shooting, which killed five, including a pregnant woman and her unborn child. Tomba is not saying whether the suspect is the shooter.
"We had enough probable cause for us to seek this person and for us to, in fact, (make an) arrest this morning," Tomba says. "We've got five individuals who are deceased. We've got a 9-year-old who was shot. The scene was a very, very complex one to process and we've got a lot of evidence to go through. So as far as who pulled the trigger, that has yet to be determined."
The man has not been charged or identified. The department has 48 hours to either bring charges or release him.
Page Options
Print this page
---
---
---
Stories with Recent Comments