Loading...


From WKYC.COM / TV 3
Get the latest school closings and delays
Courts and Crime



Friday, November 21, 2014




Cuyahoga County's heroin epidemic has a new, more deadly element




"Pink heroin" could reverse some gains the county has made again the drug problem


by WKSU's KEVIN NIEDERMIER


Reporter
Kevin Niedermier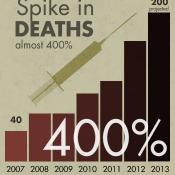 Heroin deaths in Cuyahoga County have risen 400 percent in ten years.
Courtesy of Cuyahoga County
Download (WKSU Only)
Cuyahoga County law enforcement and medical officials say during the past year they have had a little success turning back the heroin epidemic.

They cite increased enforcement and more education on the drug's dangers. But, during a press conference today they said heroin overdoses remain a leading cause of death in the county. And, Cuyahoga County Medical Examiner Thomas Gilson says another problem is emerging in the region, heroin mixed with the drug fentanyl or so-called "pink heroin."
"If you can imagine you were going to take a certain amount of an illegal drug, and instead of taking that amount you were taking 20-times that amount. What happens to them is what happens to people who take heroin, except on a much more rapid and fatal timetable that they essentially go to sleep and don't wake up, they stop breathing."
Gilson says two recent fatal overdoses in Lorain County have been linked to "pink heroin." This year, Cuyahoga County is on track to record about 200 heroin deaths.
---
---