Loading...


From WKYC.COM / TV 3
Get the latest school closings and delays
Ohio



Saturday, September 27, 2014




Former Mahoning Valley Congressman Jim Traficant dies at age 73




The fiery Democrat from Youngstown was injured Tuesday on his farm after the tractor he was riding tipped over


by WKSU's KABIR BHATIA


Reporter
Kabir Bhatia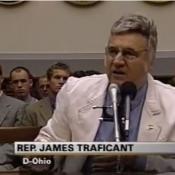 Jim Traficant represented himself during trials in 1983 and 2002, winning the first time but going to prison for 7 years the second
Courtesy of C-SPAN
Download (WKSU Only)
A family spokeswoman has confirmed that former Ohio Congressman Jim Traficant has died at age 73.
Traficant was working on his farm Tuesday when his tractor flipped over, and he's been unconscious and in the hospital ever since.
The fiery Democrat represented Youngstown for 17 years before being convicted of bribery and racketeering in 2002. But he was popular enough locally to get 15 percent of the vote when he ran for re-election from prison.
He lost to his former aide, Tim Ryan.
"People called and they'd need help with a veteran's benefit [or] social security. He was in alcohol and drug rehab work for a long, long time. So I think those people who have those personal experiences with him will have a much different take than the national persona."
Traficant was released from prison in 2009, and unsuccessfully ran for Congress again the next year. He was also known for his fashion sense, which included bell bottoms, cowboy boots and hair that he himself said looked like it had been styled by a weed-wacker.
His 2002 conviction came for accepting kickbacks and having staffers work on his farm. But he remained popular in the Mahoning Valley with people like Artha Mitchell.
"I think he made some mistakes and apparently they caught up with him. But he's a human being. He's somebody's husband. He's somebody's father. I'm not here to judge."
Traficant was also known for championing autoworker John Demjanjuk, who was convicted by Israel of being notorious Nazi guard Ivan the Terrible. The conviction was set aside in 1993.


Page Options
Print this page
---
---
---
Stories with Recent Comments