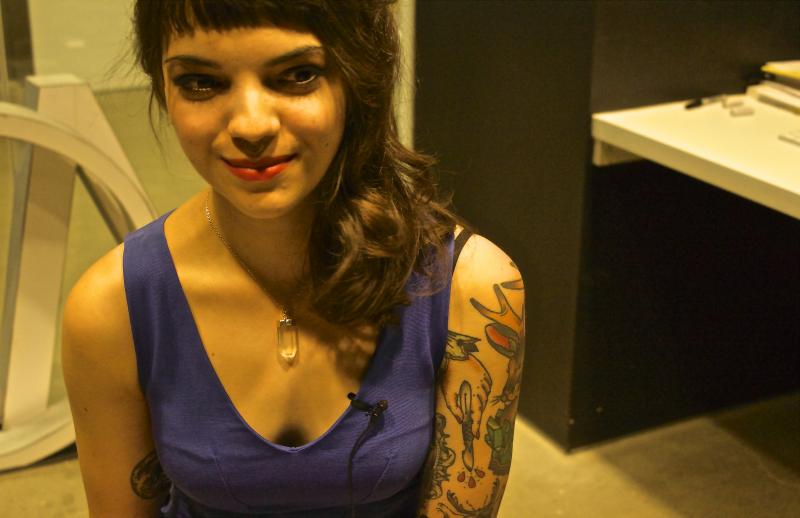 Mickey Alice Kwapis is a professional taxidermist who travels internationally, teaching people how to do taxidermy.
She's in her mid-20's -- poised, professional and a tad mysterious, with a tattoo of a jackalope covering her left arm from shoulder to elbow. It's her favorite mythical animal.
Kwapis is taking a break while her students are slicing up mice. She says the museum is an appropriate venue for taxidermy.
"I definitely see it as a mixture of art and biology."
Wine broke down inhibitions
It was a biology project that got her started. Not hers, but that of a friend who needed help at the University of Michigan about two years ago.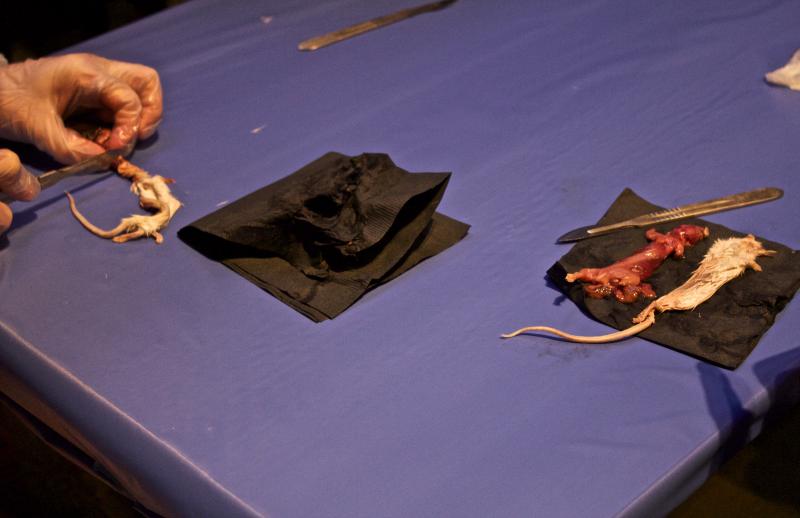 "And when I got to her house, she had a dead squirrel and a bottle of wine on the kitchen table. So we drank the wine and we cut into the squirrel, and we prepared the skin for use in her bio class the next day. And she got an A on her project and never touched a dead thing again, and I've turned this into a full-blown career."
Not for the squeamish
She found out she has what it takes to succeed in taxidermy, including a strong stomach.
"You do come into contact with a fair amount of blood because you're cutting into something that used to be alive."
Odors?
"Definitely. I mean it's a dead animal so it smells not as bad if you just take the skin off. but if you make a mistake and you accidentally puncture part of the abdomen, you want to try and avoid that as much as possible."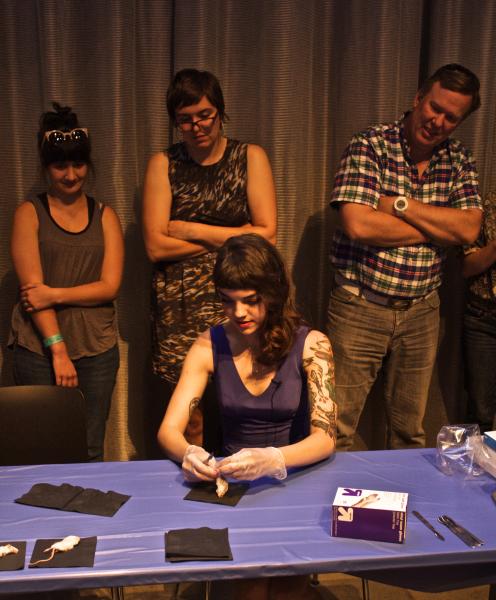 About 30 people pay $10 to take her class, offered during MOCA's Spring exhibition: "Dirge: Reflections on Life and Death."
Mortality is her life
Karpis does a lot of reflection.
"When you have to cut into an animal that is deceased and preserve it in some way, you do end up -- whether you know it or not -- dealing with your own mortality because humans are mammals. We just don't have fur all over us."
After making sure everyone has scalpels and gloves, she offers the prize of a stuffed bunny for the first to finish stuffing a mouse.
She gets volunteers to come up, and they stare for a while at five tiny gray corpses set before them.
None has done taxidermy before, and mistakes are soon made.
"Oh, I decapitated it," one student cries out.

"I did, too," admits another. "It's OK."
"So legs first or tail first?" another student asks Kwapis.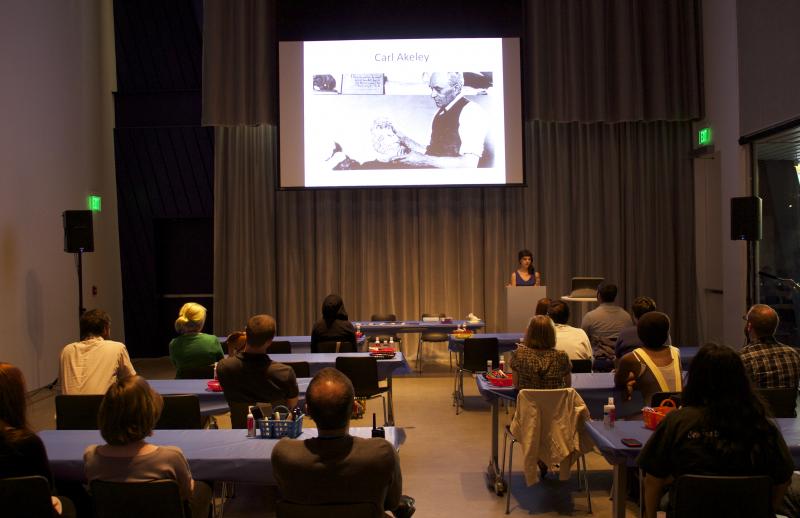 Legs first and then tail, "she replies.
It's slippery work, smelly, and not easy to get the hang of, but Kwapis is clearly a whiz.
She won a recent competition by stuffing a mouse in 1 minute and 58 seconds.
"And then you split it open, and you want to skin down the back, and pull this off like you're pulling the pants off of it."
Ethical taxidermy
A little levity helps when skinning a mouse, but Kwapis is dead serious about the ethics of taxidermy. "A,"she says,"that the animal is not killed just for the purpose of taxidermy, and B, that all parts of the animal are put to use including the organs, the skins, the fur, the bones, the meat."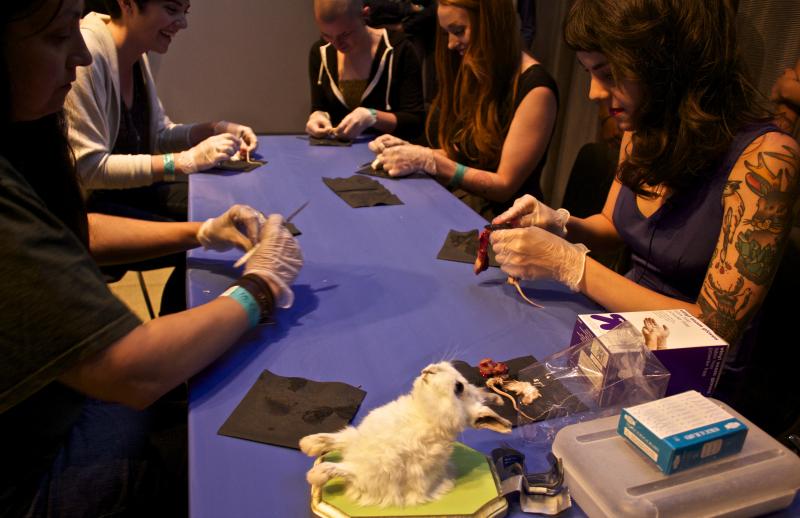 She gets some specimens from a college friend who hunts.
"So when we're done with the squirrels in the class and we've taken their skin off, the bones, the meat, the organs, they all stay together. And I just clean them off and I repackage them and I send them back to the person who hunted the squirrels for me."
Another friend who's a veterinary technician, pet stores, and a website, RodentPro.com, are other sources for the mice, rats, guinea pigs, quail, chicks and rabbits she stuffs.
"They're euthanized humanely," she says. "And they're shipped frozen."
She likes live animals, too
Kwapis grew up on a farm, has a dog and cat, does animal rescue, and fosters pets. She says she's misunderstood.
"I get a lot of people who just assume because I work with deceased animals that I just don't like living ones and that's not the case."
It's rare for one of her students to get squeamish.
"I've only had that happen once, and the girl admitted to it right away because she didn't want to pressure herself. And she happily sat in the corner while I mounted her rabbit for her. And then, once nothing icky was showing, she had no problem decorating her rabbit with a little hat. And she left and I was like, 'Alright, well at least you gave the experience a try."
If Kwapis hadn't given it a go two years ago to help her friend pass that biology class, she says she might have become a lawyer.
"And that's my biggest word of advice is for other people -- to just push their boundaries and see what happens."
Kwapis' next classes are this Saturday and Sunday at the Honolulu Museum of Art.