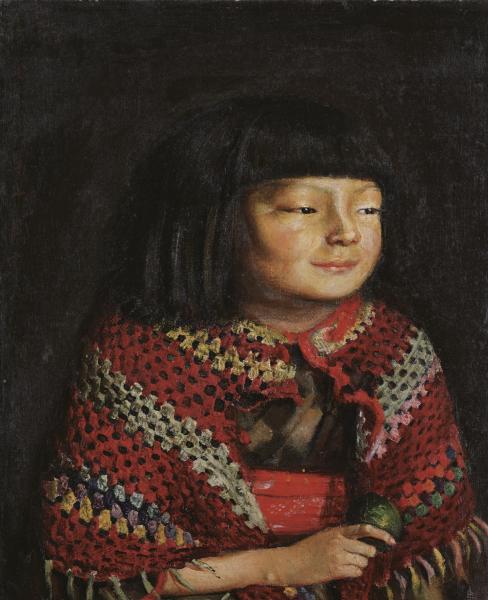 It's a cultural exchange that shows the impact of western art on Japan as well as the importance of Asian art that has long resided in Cleveland.
First, Cleveland loaned the Tokyo National Museum highlights from its world-renowned collection of traditional Japanese art.
CMA interim director Fred Bidwell was there for the January opening.
"It was so exciting to see the reverence that the Japanese art lover has for our collection, and it made me understand even more what a great institution this is."
Then, in February, Tokyo sent to Cleveland some of its masterworks from the 1870's through the 1930s, a watershed period in the art of Japan. "Art being created at this time," says Bidwell," is this amazing cross-current of strong Japanese tradition and experimentation with western ideas."
Impressionism re-interpreted
Bidwell points to the influence of impressionism. "This painting of 'Maiko Girl' by Kuroda Seiki: bright colors, contrasting light and dark. It could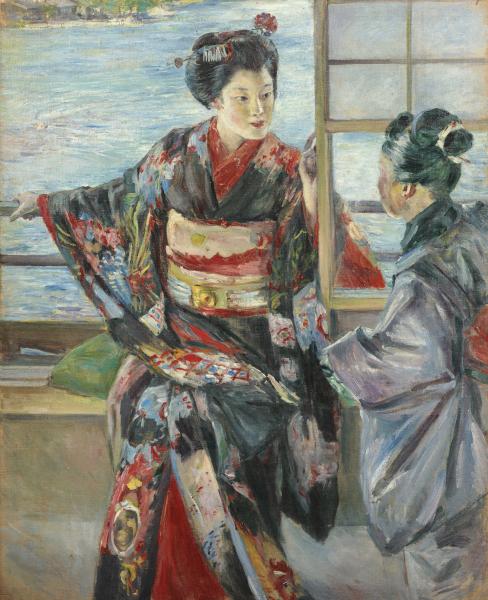 very much be a French impressionist painting except for women in traditional Japanese costume. It's very interesting this sort of blending of technique with traditional subject matter."
Japanese cultural authorities permitted 55 nationally- designated treasures to journey to Cleveland, including paintings, tapestries, ceramics, sculptures, and calligraphy.
Why Cleveland?
Zeniya Masami, executive director of the Tokyo National Museum, arrived at CMA, along with the art, and a translator, for the February 16th opening of "Remaking Tradition: Modern Art of Japan." "I think the Cleveland audience who has been already familiar with Japanese art through the Cleveland art museum collection will love our modern art collection."
The works go on view just as CMA's curator of Japanese and Korean art, Sinead Vilbar is starting her new job.

Minimalist mountain view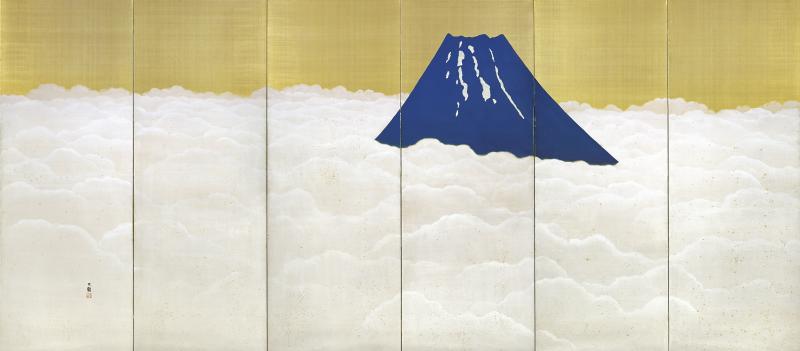 At the show's opening, Vilbar stands before a 6-fold, wall-sized screen of gold-leafed silk. It's a minimalist, stark, flat depiction of the blue peak of Mount Fuji rising above billowy white clouds.
"One of the signature works for the exhibition is this large-scale screen format work by Yokoyama Taikan. Yokoyama Taikan and other Nihonga, or modern Japanese-style painting artists, take classical motifs from classical Japanese literature, rendering these in a highly graphic and modern way."
Mona Lisa of Japan
Japanese modern artists borrowed concepts from Europe, while still clinging to tradition, as in a 1921 oil on canvas painting. "This is a work by Kishida Ryusei. He did a series of images of his daughter Reiko… She's wearing a traditional Japanese girl's outfit, but he has really looked at Northern European painting as a model. He's trying to combine a sense of her humanity, and her spirit through the lens of this western style…She's compared often to Mona Lisa, this very sweet but ambiguous smile."
Confidence in CMA
Why is it that it's so rare that we see these masterpieces from modern Japan? "Important cultural properties are safe-guarded very strictly, and they are not allowed to be displayed for more than six weeks in any given year. The fragility of the materials, both light sensitivity with silks and papers fading or darkening."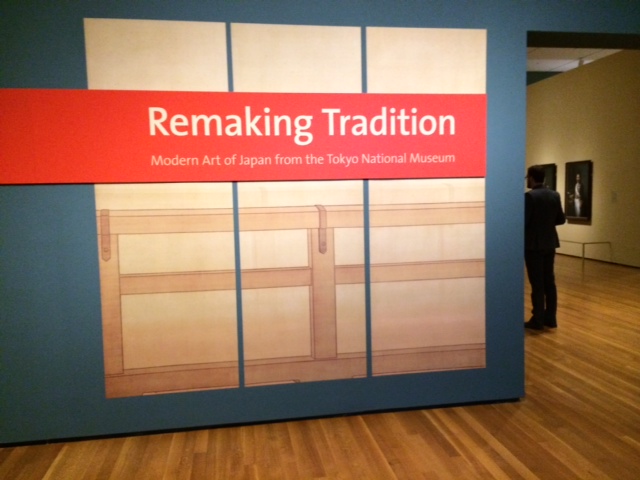 But again,why Cleveland? "That is a testament to Tokyo National Museum's confidence in our ability to properly display and protect the works of art."
Fred Bidwell also credits CMA's long friendship with the Tokyo National museum. "This is opening up a window into a period of Japanese art that's not well understood or appreciated in the United States for sure, and even in Japan a bit."
"Remaking Tradition: Modern Art of Japan from the Tokyo National Museum" remains at the Cleveland Museum of Art through May 11th.