Arts and Entertainment



Thursday, April 10, 2014




Rock Hall inductions turn a corner toward hard-rock 'legitimacy'




Cleveland-based Hall holds inductions at Barclays Center in Brooklyn, New York, and feature glam-rockers KISS and grunge pioneers Nirvana


by WKSU's KABIR BHATIA


Reporter
Kabir Bhatia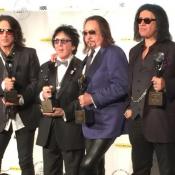 Paul Stanley, Peter Criss, Ace Frehley and Gene Simmons (l to r) have been eligible for the Rock Hall since the late 1990s, and finally made it in this year
Courtesy of K. Bhatia
Download (WKSU Only)
The Rock and Roll Hall of Fame inductions in Brooklyn Thursday saw many of the inductees either not present, or not playing. Glam-rockers KISS finally made it into the hall, but did not perform due to a dispute over whether current and former members should play. The band was introduced by Rage Against the Machine's Tom Morello, who says recent inductions make the Rock Hall more legitimate.
"I think that the Rock and Roll Hall of Fame should be just like the Baseball or Football Hall of Fame: something that all youngsters aspire to who pickup and instrument. And I think that the Hall, in the past, for fans of hard rock and metal music, has not been that. Our heroes have not been represented. I think last year, with the induction of Rush [and] this year with the induction of KISS, and who knows next year with Deep Purple or Iron Maiden or Judas Priest, the Hall will come to better reflect one of the strongest limbs in the tree of rock."

Linda Ronstadt was unable to attend due to her battle with Parkinson's Disease, while Beatles' manager Brian Epstein and Nirvana frontman are deceased. After being held in Los Angeles last year, the Rock Hall inductions return to Cleveland next year.

Travel papers for Cat Stevens, now known as Yusuf Islam, were still up in the air until a few days ago. The British singer-songwriter converted to Islam in the late 1970s, and has occasionally found himself on no-fly lists since 9/11. He's said in interviews he's "not sure if he feels comfortable being in a museum."

Nirvana drummer and Warren, Ohio-native Dave Grohl says it's a bittersweet moment without frontman Kurt Cobain, who committed suicide 20 years ago last week. But Grohl told Jimmy Fallon Wednesday he still looks back fondly on the band's early tours.

"We were booked into these places that, some of them held, like, 90 people. And we'd pull up in our van and because our album had come out and the video was on MTV and stuff, we'd pull up and there'd be so many people trying to get into the show, that even when we had a gold record, we were still in a van with a U-Haul trailer."

Grohl was the second drummer for Nirvana, after Chad Channing, who was controversially not inducted.

Rounding out this year's class is former Genesis frontman Peter Gabriel, and Hall & Oates, who made a point to confirm in the media that they would attend the ceremony without incident.
Page Options
Print this page
---
---