Loading...


From WKYC.COM / TV 3
Get the latest school closings and delays
Other Stories



Monday, February 17, 2014




Rising temperatures likely to cause flooding




Melting snow and cracking ice will increase flooding, especially near rivers




Story by

LYNDSEY SCHLEY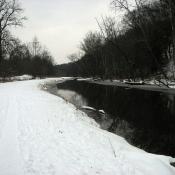 Ice on area rivers will worsen flooding as temperatures rise.
Courtesy of Cuyahoga jco on Flickr
Download (WKSU Only)
2014 is among the top ten coldest winters in Ohio, but a thaw this week will raise temperatures to near the 50 degree mark. Walter Topp, administrator for the Cuyahoga County Office of Emergency Management, says that is creating perfect conditions for increased flooding. Topp says the 9 to 10 inches of snow on the ground will melt into about two inches of water. The ground is frozen to 10 inches below the surface, and he says the frozen soil does not absorb water well. Another concern is that with ice clogged rivers and Lake Erie frozen over, flood waters have nowhere to go.
"So the warmer temperatures, on top of all those, will increase the risk of flooding in Cuyahoga County especially along rivers, at river mouths where ice dams are a real concern," Topp says. "As the ice starts to break up on the rivers, it can't really get into the lake, it builds up and it just backs up the water."
Topp says emergency agencies are limited in what they can do. For people living on flood plains, he suggests storing valuables at a higher level of the house or looking into flood insurance provided through FEMA.
Page Options
Print this page
---
---
Stories with Recent Comments