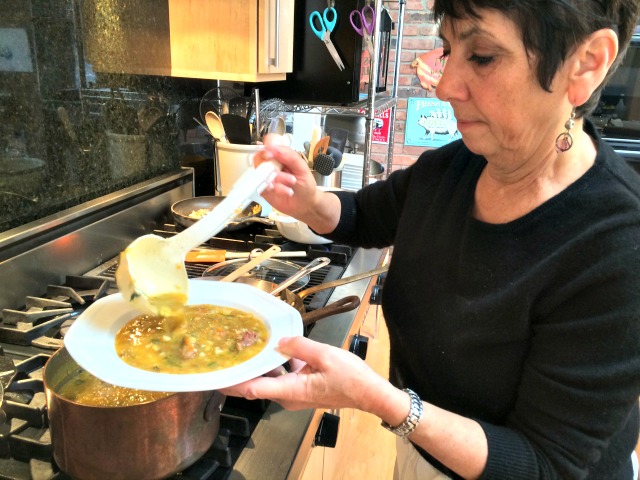 Ruth Levine serves a piping hot bowl of krupnik, a Polish soup her mother used to make.
"My dad loved soup, so we had some kind of soup almost every day."
Krupnik was one of her favorites growing up, and its welcoming aroma now fills Levine's Pepper Pike kitchen.
She starts by softening the meat, boiling it in a little water. It's flanken, a slab of short rib popular in Jewish cooking.
"And it has a little barley, little chunks of meat, potato, a little bit of split pea, carrot and celery. And just season to taste, salt and pepper and fresh dill to finish. Great on a snowy day. That's what we had. We had a version of
that very often, sometimes made with beef and sometimes made with chicken."
Narrow escape
Levine was 3 when her family emigrated to Cleveland. They were Polish Jews who used forged papers to escape the Nazis.
"They were in the Holocaust," says Levine, "but not in the concentration camps."
When the war ended, her father opened a tailor shop in Cleveland's Old Arcade and the family moved to the Kinsman area, "which was the heart of the Jewish neighborhood in the early '50s. I remember going to the chicken guy as a little kid and my mother would pick out a chicken and she'd pluck it
and clean it back in the apartment on 149th. And she's sit me down with a bowl of chicken feet to eat, and I thought it was delicious."
First teacher was the best
Levine grew up to be an accomplished caterer and restaurateur. She studied with a French chef and a Chinese chef, but it's her first teacher she credits most.
"My mom. I spent a lot of time sitting in the kitchen watching her, not cooking, but watching."
Her mother had two sisters.
"When they all got together, everyone cooked. I remember so distinctly in my mother's house all of them all cooked alike. If you would close your eyes, you'd think it was my Aunt Mary cooking, or my Aunt Frances cooking or my mother cooking."
Levine's mother was a perfectionist, especially when it came to chicken soup. It was never allowed to boil.
"Only little tiny bubbles, and if you went near that soup with a spoon you'd be yelled at. 'Don't touch my soup until it's done! Don't stir the soup!'"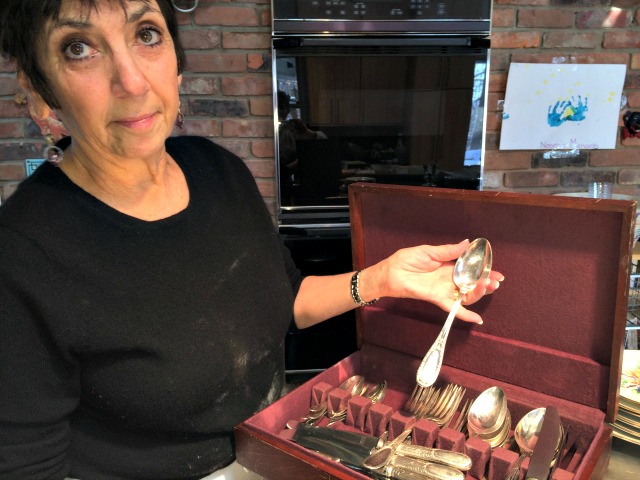 A tight-knit community
Food was very important in her home and in the social life of the neighborhood.
"We went to the park every Sunday because all their friends all met at the park, Forest Hills Park in Cleveland. Every European family went. There were picnics and everybody played cards and you were there all day. It was a very tight community. That was their extended family. So they found an apartment on 149th and Kinsman. And interestingly enough, that was a four-suiter and all four suites were occupied by families from the Holocaust."
Her mother loved to cook for her social club.
"The club was all Holocaust survivors, and they would play cards and drink, and smoke, and eat, and talk, and stay up. And so I remember all those -- cooking and having a busy house."
Time-consuming but satisfying work
Busy, and redolent of savory dishes, like kreplach and onions, the Jewish version of pierogi, "which I realized how labor-intensive they are," says Levine as she vigorously attacks the dough with her mother's rolling pin.
She still has her mother's candlesticks, too, and her silverware, and even wooden spools of silk thread from her father's tailor shop.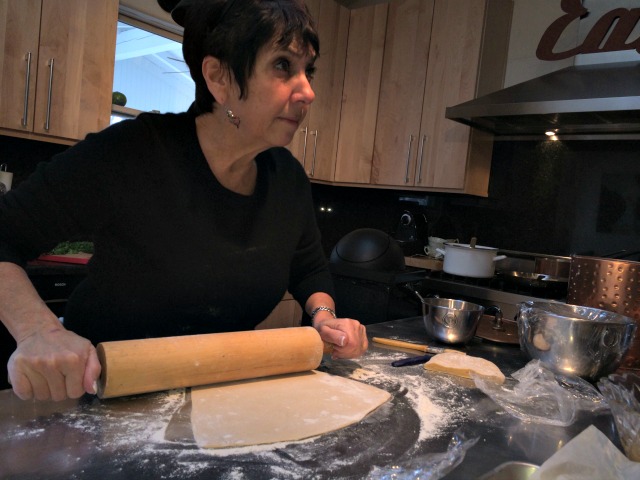 "You just want it (the dough) to get as thin as you can."
Once it's rolled out she cuts it into 2-inch squares and takes a big bowl out of the fridge.
"This is the meat filling right here: chicken and beef and a little bit of liver, and lots of sautéed onion go in here, and salt and pepper. And that's really about it, and seasoned to taste. And then, you're just going to take the square and make it into a triangle. You pinch the edges with a little egg wash. It's almost like making Chinese dimsum. So it's like Jewish dimsum."
The little dumplings are browning in olive oil as Levine adds onions to the pan.
"I had browned the onions a little earlier, " she says, "and you want to get a little caramelization on there. Of course my mother never used the word 'caramelization'. She would say, 'Get them nice and brown!' "
Vegetarian kreplach
Kreplach can be meatless, too.
"Depending on the season my mother used to make them filled with cottage cheese or blueberries, and those were served boiled with sour cream."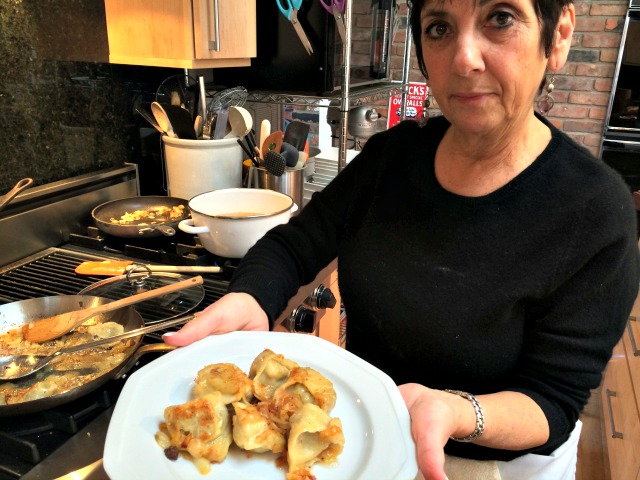 Kreplach was often a side dish at Friday night family dinners, or the dumplings were boiled and dropped into chicken soup.
"And you'd get maybe three kreplach if you were lucky."
Sharing food and memories
Delicious memories are shared when Levine gets together with others like her who fled the holocaust as children.
"What your mothers made, how they made it. If your mother was Hungarian, they'd say, 'Oh, your mother was a great baker,' because Hungarians were known for baking and making strudels." Likewise, Polish food was often sweet and savory together. And if they were from Russia that was a totally different kind of cuisine."
These confabs often occur at Levine's Cleveland restaurant, Bistro 185.
"I actually have a friend who was a hidden child during the war, and they come in with their friends who are all Holocaust survivors. But they were very young during the war. And I usually go over to the table and they'll say to me, 'What should I have today?' And it's kind of like sitting with my family, talking, and they'll say, 'I want my steak well done.' I go, 'No, you're not going to get your steak well done. I'll give it to you medium."
Levine remembers losing arguments with her mother about what they should eat. As a child, she wanted what her school friends got but her mother didn't cook that way.
Jewish cookery was mother's best
"Our version of spaghetti was spaghetti noodles with Hunt's tomato sauce. That was it. There was no garlic or onion or wine. Polish spaghetti."
It's hard to admit, but she used to be embarrassed by her parents.
"As a kid you just want to fit in, and we were so different. I had a very Polish last name which nobody could pronounce. As a kid, growing up you wanted to be American, and you didn't want to have parents with accents. So as you get older you realize what a mistake that was."
And she realizes how much she learned just sitting at the kitchen table, watching.
Levine had a catering business for more than 20 years before opening Bistro 185 about eight years ago, and her mother would no doubt be proud.
"She would always say as she got older that she was surprised at how good a cook I turned out to be. She really enjoyed coming here for dinner. She would say, 'I give it all to you now.'"
Levine's giving a glimpse of the '50s Wednesday at her restaurant with a five-course retro dinner including nostalgic favorites like Waldorf salad, Swedish meatballs and seafood Newburg.
And that's this week's Quick Bite.
Next week Chef Dante Bocuzzi cooks up some pasta and tells us about the new Italian restaurant he's opening in Tremont.