Loading...


From WKYC.COM / TV 3
Get the latest school closings and delays
Environment



Monday, July 29, 2013




Ohio University plans to survey the effects of fracking on local communities




Researchers say the survey can help communities plan for the future




Story by

LYNDSEY SCHLEY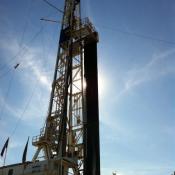 The survey aims to better understand how fracking wells like this one affect the surrounding communities
Courtesy of Tim Rudell
Download (WKSU Only)
The oil and gas drilling process known as "fracking" has seen plenty of controversy and Ohio University is conducting a survey of local leaders to track how industry affects communities, for better or worse. Sara Boyd, a researcher from Ohio University, says the survey will focus on 17 counties with topics including public safety, the local economy, property values and the environment, to see how the industry has changed them. Robin Stewart, another researcher on the project, says this survey could be valuable to help communities plan for the future.
"It would help identify strategies and could be used to really then further drill down on what the types of needs that communities have to address these positive and negative impacts to the degree that they need to for their residents," Stewart says.
This is the university's second study on the effects of the fracking industry in Ohio and the group hopes to follow up regularly.
Page Options
Print this page
---
---
Stories with Recent Comments