Loading...


From WKYC.COM / TV 3
Get the latest school closings and delays
Sports



Sunday, November 18, 2012




Akron Soccer zips through playoffs




2-1 win over Univ. of Michigan propels Akron to third round


by WKSU's KABIR BHATIA


Reporter
Kabir Bhatia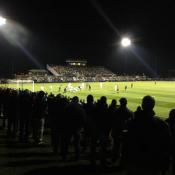 No. 5-seed Akron beat Michigan 2-1 and will host Creighton next Sunday
Courtesy of Carl Carlson
Download (WKSU Only)
The Akron Zips men's soccer team pulled off a 2-1 win Sunday night to advance in the NCAA playoffs for the fifth time in five years. WKSU's Kabir Bhatia reports on the team's final championship run under Coach Caleb Porter.
More than 3,000 fans filled the stadium at the University of Akron to watch the fifth-seeded Zips battle the University of Michigan. The game was scoreless till the 43rd minute, with small pockets of cheering surrounded by masses of tense and quiet fans. They were bracing for the possible end of Akron's season and an early exit for Coach Caleb Porter, who has brought Akron to national prominence.

Senior Shawn Keenan: "Coach Porter's awesome. He interacts with the students a lot. He was in the (student) union the other day passing out tickets. So he's always on campus trying to get people pumped up for the game. Trying to get more students to come."

Keenan is hopeful the team will win another championship this year to match the one from 2010 before Porter heads to Major League Soccer's Portland Timbers next season.

The Zips advance to the third round of the playoffs to host No. 12-seeded Creighton next Sunday.
Page Options
Print this page
---
---
---
Stories with Recent Comments