Arts and Entertainment



Thursday, October 4, 2012




2013 Rock Hall ballot invites fan votes




600 musicians and industry insiders get to vote along with online rock fans


by WKSU's KABIR BHATIA


Reporter
Kabir Bhatia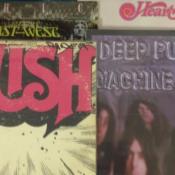 Rush's self-titled and self-released debut found airplay on WMMS in 1974, leading the band to a long career. The Paul Butterfield Blues Band's "East-West" closed with the epic, 13-minute title track. Chic's "Risque" (1979) kicked off with the much-sampled hit, "Good Times." Heart's "Dreamboat Annie" (1976) and Deep Purple's 1972 LP "Machine Head" contain each group's respective signature hits: "Crazy On You" and "Smoke on the Water."
Courtesy of Carl Carlson
Download (WKSU Only)
This year's Rock and Roll Hall of Fame nominees include German electronica, one of the Three Kings and a Canadian group that made its name in Cleveland. And for the first time, fans can vote for their favorites online. WKSU's Kabir Bhatia reports on Thursday's release of the newest nominees.
Canadian progressive rockers Rush have been eligible for the Rock Hall for 13 years, but the group makes its debut on the ballot this year. The Toronto trio might never have made it out of the Great White North if it weren't for then-WMMS Music Director Donna Halper.

"I was sent a copy of that first album from a Canadian record promoter. He said to me, 'You know, my label passed on this band. But I hear something. I just think they have some talent.' So I put down the needle on 'Working Man'."

"Cleveland was, for all intents and purposes, a factory town. And I'm not saying it had no culture, but it wasn't known for culture. It was known for factories. It was known for 'I get up at 7, and I go to work at 9. I got no time for livin' because I'm workin' all the time'. I knew it was going to speak to people in Cleveland. And it did."

Rush thanked Halper for her support on its first two albums. She even organized the effort to get the group a star on the Hollywood Walk of Fame in 2009. And she says the Hall's invite for fans to vote online this year is right in line with the huge support for her favorite band.

"We wrote. We started petitions. We picketed. I mean there actually was a small group last year that picketed in front of the Rock Hall. There are so many fans out there who have just been despairing because it's like 'what does this band have to do to get respect?'."

Other groups nominated for the first time are Deep Purple, Procol Harum, hip-hop pioneers Public Enemy and N.W.A., Motown's Marvelettes and bluesman Albert King.

Albert King, B.B. King and Freddie King are collectively the Three Kings of the Blues Guitar, and the latter two have already been inducted.

Returning to the ballot are Heart, Joan Jett and the Blackhearts, Randy Newman, recently deceased disco queen Donna Summer, German electronic innovators Kraftwerk, Chic, New Orleans' The Meters and the Paul Butterfield Blues Band. The final list of inductees will be announced in December.
Page Options
Print this page
---
---