Loading...


From WKYC.COM / TV 3
Get the latest school closings and delays
Ohio



Tuesday, May 29, 2012




American Civil War death toll climbs by 130,000




University of Akron editor of "Civil War History" says the number lends context to how widespread the pain was


by WKSU's M.L. SCHULTZE


Web Editor
M.L. Schultze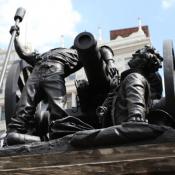 Part of the Civil War memorial on Cleveland's Public Square. New research says the death toll was 750,000, not the 620,000 figure that has been accepted.
Download (WKSU Only)
For better than 100 years, the accepted toll from the Civil War has been 620,000 American deaths. Now, research published by the journal "Civil War History" says – horrific as that count was – it was far lower than the reality. WKSU's M.L. Schultze spoke with the editor of the journal, University of Akron history professor Lesley Gordon, about the new numbers and their meaning.
Page Options
Print this page
---
---
---
Stories with Recent Comments