Government and Politics



Tuesday, September 13, 2011




Cuyahoga land bank clearing big section of East Cleveland




55 vacant buildings being removed for redevelopment


by WKSU's KEVIN NIEDERMIER


Reporter
Kevin Niedermier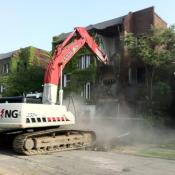 Demolition begins on one of the 55 East Cleveland buildings being razed by the Cuyahoga County Land Bank. The $900,000 project is expected to take about a month.
Courtesy of Kevin Niedermier
Download (WKSU Only)
A large swath of vacant properties in economically depressed East Cleveland will be demolished and hopefully replaced with new development. Tomorrow the Cuyahoga County Land Bank will begin tearing down a cluster of 24 apartment buildings and 31 houses. Land bank president, Gus Frangos, says this is the organizations' largest single redevelopment project so far.
Frangos: "It's in a commercial area, that if cleared and assembled, could be used for some development. There is no particular developer available or waiting in the wings, because right now you can't market these properties for anything, no one would even look at them. Ending up with 7 acres of assembled, clean site, all of the sudden that becomes attractive."
Frangos says the land bank has previously cleared smaller areas of vacant properties. The Cleveland Clinic, various churches and schools and other organizations have redeveloped these parcels. The county land bank was established in 2009 at the height of the foreclosure crisis to help eliminate abandoned properties. Frangos says there are about 25-thousand vacant residential and commercial properties throughout Cuyahoga County.
Page Options
Print this page
---
---