Loading...


From WKYC.COM / TV 3
Get the latest school closings and delays
Arts and Entertainment



Friday, September 2, 2011




Akron native Ralph Carney releases "Serious" new album




Horn player for Tom Waits and Tin Huey


by WKSU's MARK URYCKI


Reporter
Mark Urycki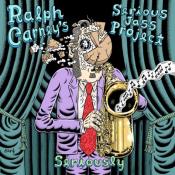 The Serious album cover art is by notable NE Ohio cartoonist Derf.
Courtesy of Derf
Download (WKSU Only)
Most rock music fans in the region are familiar with Patrick Carney - one half of the band, The Black Keys. But a few decades ago they would have known his uncle – Ralph Carney, the horn player for the new wave band Tin Huey. Fans and critics like to use the word "wacky" when referring to him but Ralph Carney has a new album of fairly straightforward old jazz tunes coming out at the end of this month. He's also making live appearances tonight in Cleveland and tomorrow in Akron. WKSU's Mark Urycki has more on a guy who's been called the King of the New Wave horn . . .
←
Meticulous preparation for the Cleveland show
←
Did you influence your nephew Patrick, of The Black Keys?
←
Asked to sit in with Medeski, Martin, and Wood on second set
←
Claims his grade school influence was jazz, not The Monkees
Ralph Carney performs with The Lucky Tigers at the Beachland Ballroom in Cleveland tonight (9-2-11) and with other friends at the Highland Square Art festival tomorrow afternoon (5pm 9-3-11).


---
Related Links & Resources
Ralph Carney page
Serious Jass Project facebook page
Tin Huey
Page Options
Print this page
---
---
---
Stories with Recent Comments