"Thank you I'm so excited to have blueberries!"
Louise Fleming Dufala knows the fruit at Ashland Local Roots is farm-fresh. "So I pay a little bit more. I go out of my way to get it."
How it works
Farmers pay a $50 annual fee to bring produce here to be sold on consignment, just like at a resale clothing shop.

Community volunteers, who stock the shelves and run the register, stamp on bar codes to be swiped at the central checkout.
Farmer Jason Wesley just arrived from Pleasant Valley Growers in Lucas with fresh-picked berries and a bushel of summer squash.
Overhead's low enough for farmers like Wesley to get back 90 percent of gross receipts.
Convenience for farmers and shoppers alike
"It goes right from the field to the table."
At most farmers' markets, the farmer has to be there. Not here.
"That's another key component. We can't be at multiple farmers' markets when we're at the peak of our business like the blueberries and the zucchini and the summer squash."
Wesley can drop it off at Local Roots and get right back to his fields while his customers get his produce at the peak of freshness.
"If they can't meet us at the Saturday morning Bellville Farmer's Market, they can come up here to Local Roots and get it on Thursday."
Imitators are cropping up
The model's apparently working.
In the four years since it opened, Local Roots has sold $2 million worth of goods. And it has imitators all across the country.
Sally Baker drove 500 miles from the old mill village of Philmont, N.Y., to meet with Local Roots founders in Wooster. And she came away inspired.
"Fresh food delivery can actually be produced within little communities. That's what Local Roots has developed. It's a great model."
Philmont has about 1,400 residents.
Baker and a committee of volunteers of Philmont Beautification, Inc. hope to open their new market in about six to eight months.
A healthier community is one of the payoffs
Meanwhile in Huntington, W.Va, a non-profit co-op called The Wild Ramp just celebrated its second anniversary.
It was a 2010 Washington Post article about Local Roots and a celebrity chef's slamming of Huntington's eating habits that spurred Lauren Kemp's group to come to Wooster for a workshop in 2012.
"When Jamie Oliver came to town to point out that Huntington is the fattest, most unhappy and unhealthy city in America, a lot of people were very upset by that. That's when the city began to turn around."
Encouraging healthy eating was among the original goals of Local Roots. It's easier now for Maryann Hutchins of Ashland to find what she wants for her children.
"Organic, non-GMO, no hormones, no antibiotics, really all of it. I'm trying to go as clean as I can be."
Food a mother can trust
She's shopping at Local Roots today for organic zucchini and fermented vegetables with 3-year-old Leah by her side and 9-month-old Beau cradled in her arms.
"You can't really find a lot of organic stuff in stores. And even if it is (there), I don't know if I trust it. So this store's been a blessing."
Eighteen-year-old Rachel Nowakowski of Ashland might be the market's youngest volunteer. "I love the place. I love what we represent and do. Mostly I run the register and just help customers and tidy things up."
It's an offshoot
Farmer Dave Benchoff of Banzhaf Garten Organic Farm helped get the Wooster market started. He now serves on the Ashland Local Roots steering committee.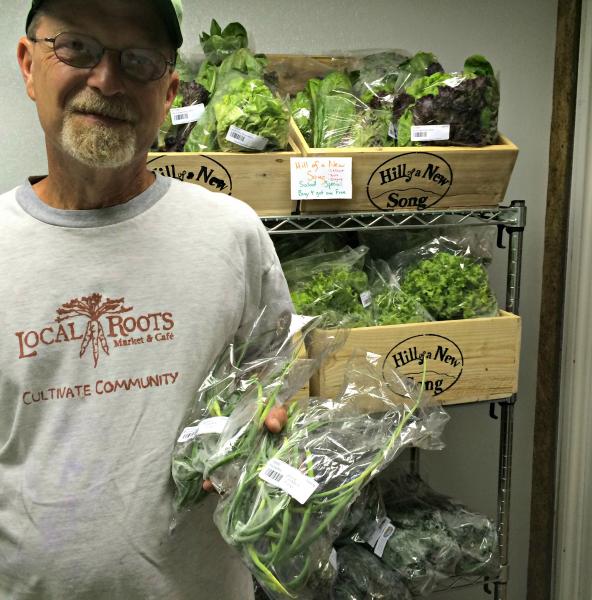 "In Wooster we refer to this as the sprout."
They're only 21 miles apart and many customers like April Schwendemann shop at both markets.
"We like to be able to buy our produce fresh. Of course it tastes better when it's fresh. So we like to come here where we know where it's come from. We know how it's been raised."
She knows Dave Benchoff and most of the farmers, too.
Cultivating community
"We have our regulars who come once a week. They like to strike up conversations with people. And that's what we want."
Local Roots in Wooster also has a popular café and has become a community clubhouse.
Benchoff feels the same energy building at the Ashland market.
"It's headed that way. It's growing. Like our T-shirt says: 'Cultivate community.' "
And that's this week's Quick Bite, next week we look at gluten from both culinary and medical perspectives.