Abe Hijazi owns Falls Mediterranean Food Mart and Grill on Graham Road in Cuyahoga Falls. He's been open about a year.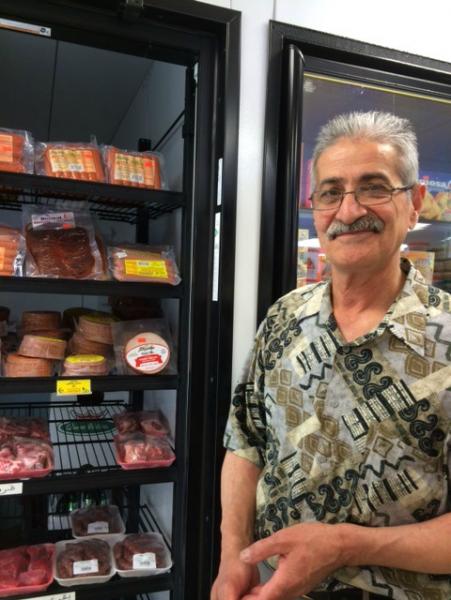 "Meat pies we make here, schwarma, schwarma chicken, schwarma lamb. We have all kind of grilled item, kabob, kofta."
He says his meats are "halal" the Arabic word for "permissible." The Hebrew word "kashrut," or in English, "kosher," has the identical meaning.
"Halal is great food to eat, killed under the Islamic law and in the name of God been killed and been drained from the blood completely. It's halal and kosher at the same time."
Halal as an alternative to kosher
Hijazi says a good percentage of his customers are Jews. One reason may be that there's a shortage of kosher butchers nearby, but Hijazi says his Jewish customers also know that the halal and kosher processes are essentially the same: The name of God is invoked at the time of slaughter, the blood is completely drained, and the animal is killed with a sharp knife.
Jews and Muslims may disagree, but Rabbi David Kosak says, not about this.
"What the two traditions share in common is the requirement that animals be quickly slaughtered to minimize any pain or suffering to them by use of a knife."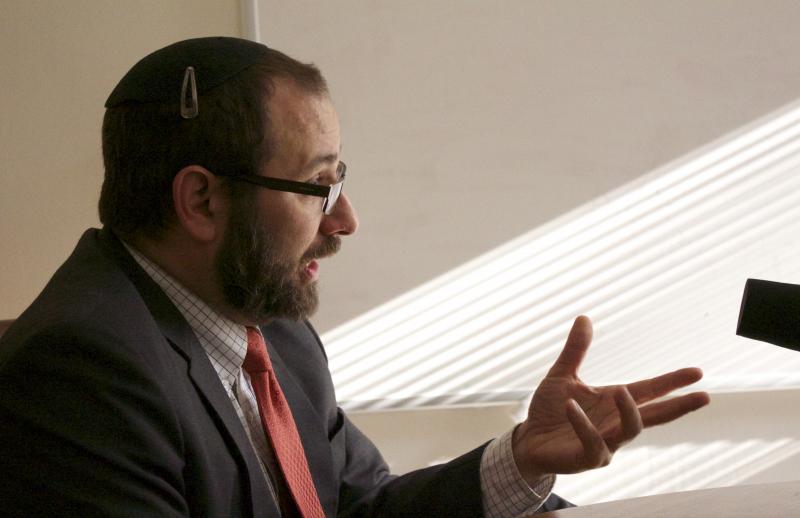 Dhabiha and Schechita both based on preventing cruelty
In Islamic tradition the method of slaughter is called dhabiha, and the knife must not be sharpened in front of the animal.
Like halal butchers, kosher butchers must use non-serrated knives.
"Balai zhok hayim," says Rabbi Kosak. "The notion of not inflicting unnecessary suffering to animals is a prime commandment in Judaism, and the laws of shechita, the laws of painless slaughter represent that."
Rabbi Kosak, spiritual leader of Beachwood's Shaarey Tikvah Synagogue, was once in the food business.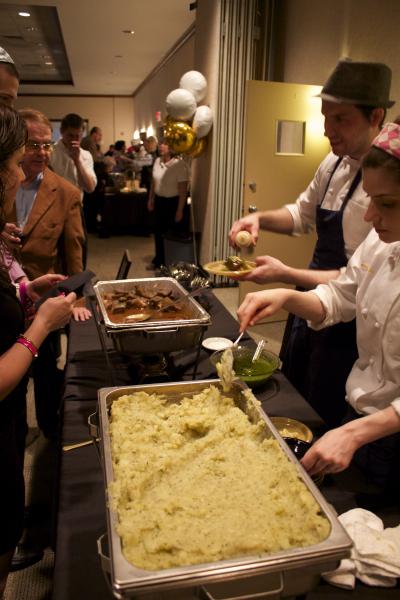 "In another life it seems like, but yes, I was a chef, a caterer."
Gourmet kosher at the temple
The rabbi's in his element at "A Kosher Taste of Cleveland", the temple's annual fundraiser.
The temple orders the meat, and chefs from seven popular area restaurants including Giovanni's, Edwins, and Greenhouse Tavern, prepare the feast in Shaarey Tikvah's kosher kitchen.
"Wonderful things. I think someone's passing lamb lollipops. We've got mushrooms in Romesco sauce from Edwin's Restaurant. Beautiful carrot frites from the Greenhouse Tavern.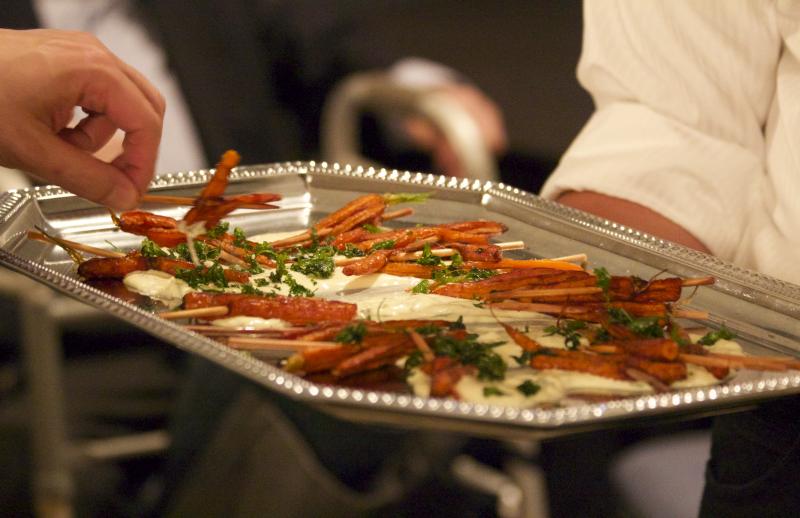 Cooking kosher is not hard for the Greenhouse Tavern's Chef Brian Goodman.
"My grandmother kept a kosher kitchen at her home. It fell into the wayside a little bit with generations, but I was familiar with it in the past."
No pig's head tonight
The Greenhouse Tavern is known for its pig's head entrée, but that won't do tonight.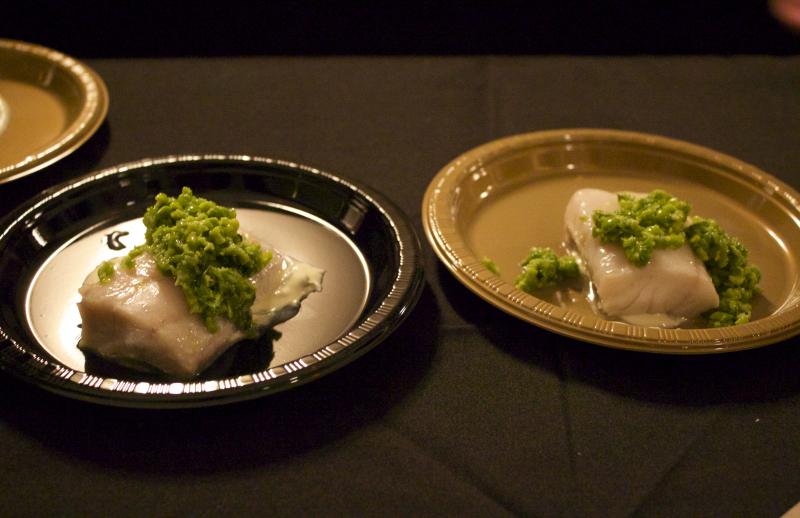 Goodman instead lays poached walleye on a bed of fresh, smashed peas mixed with olive oil, lemon, and cilantro.
Meanwhile Chef Zach Ladner kept the rule about separating meat from dairy by making garlic mashed potatoes with olive oil instead of butter to accompany his braised beef flanken short ribs. Ladner says it's hard to keep kosher with what he usually cooks at Giovanni's.
"It is, yeah, because especially when you're talking about Italian food everything has cheese. So cheese and meat. We can't do that. But we make do. We make do."
Raising up humans to face the divine
Orthodox Jews obey dietary commandments handed down 3,000 years ago, but in the era of refrigeration many Jews believe the ancient rules are no longer necessary. Rabbi Kosak says, though, that food safety was never the point of keeping kosher.
"The laws of kashrut are given by God so that we would be holy. To refrain from just eating anything we want raises the human being up." Abe Hijazi says keeping halal does the same for Muslims.
"It's really important because when you face God you have to be with the Islamic law and the word of God."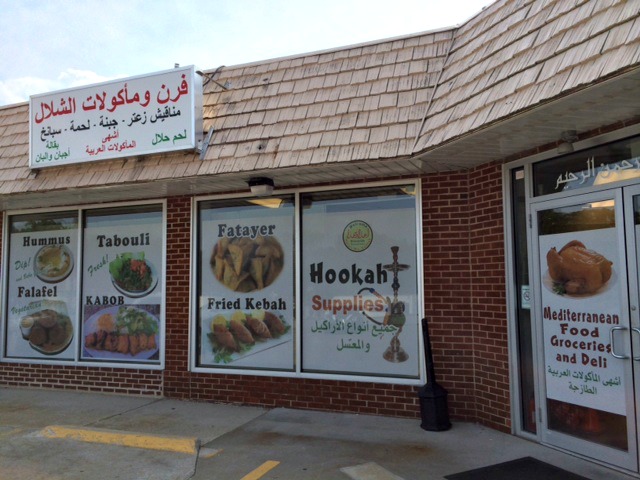 Rabbi Kosak says Muslims and Jews are alike in this way.
"We come to know somehow God's expectations of humanity through the process of law."
At Falls Mediterranean Food Mart and Grill, at least when it comes to shopping for meat, Hijazi brings Jews and Muslims together.
"God is God. There's no differential between Muslim or Jews. We're all God's creation. There's 276 religion in the world and one God."
And that's today's Quick Bite. Next week we're heading to Ashland, where farmers and foodies unite at a new kind of farmers' market.