By early June in Madison at Chalet Debonne, Tony Debevc's Riesling grapes usually begin to blossom. But this is a very bad year.
"You can see as we approach it a stark difference. They look all dead, which is what has happened. There's no bud growth. These canes are extremely dry and brittle."
The dead vines are part of what an Ohio State University survey shows is the worst grape damage the state's ever seen. Doniella Winchell of the Ohio Wine Producers Association says 20 percent of vines were lost in the Southwest, and about 40 percent in the Northwest and the Lake Erie Islands.
Losses are total for "white table cloth" wines
"But here in the Grand River Valley, we've lost 100 percent of some of our vinifera varieties."
Vinifera, from the species vitus vinifera, is the most widely cultivated grape for wine, but not the hardiest. Throughout the state, 97 percent of vinifera grapes like Cabernet Sauvignon, Pinot Noir and Riesling didn't make it through the winter.

"Sub-zero temperatures," says Winchell, "More than 10 incidents below zero, some of the incidents lasting as long as six hours."
Tony Debevc's been growing grapes in the Grand River Valley for more than 40 years.
"We had some bad winters in the case of snow in the mid-1970s, where it got pretty snowy and cold, but never these temperatures that we've seen this year."
About 25 years ago, Debevc expanded beyond the sweeter, cold-weather grape varieties his Slovenian immigrant father used to plant.
Wines from those grapes are still popular in Northeast Ohio's Eastern European neighborhoods. But Debevc decided to "push the envelope," as he calls it, with European vinifera grapes like Chardonnay, Cabernet Franc and Riesling, and in recent years even more delicate varieties like Sauvignon Blanc and Merlot.
They've all thrived, especially the Riesling. "Even in the worst winter conditions. This year -- we'll have zero."
And it'll cost him. "We're going to lose at least a half a million dollars."
Hopeful signs for future vintages
Debevc's down, but he's not out. Another part of his 170-acre vineyard shows signs of life.
"These are the Dechaunac variety. They're a French-American hybrid that are much hardier, very similar to our native varieties like Concord, Niagara and so forth, and they seem to have
survived. You can see some bud growth."
You can see that too, at nearby Ferrante Winery where Alyssa Sekerak's the marketing manager.
"The native American Lambrusco style grapes, those grapes are a little bit hardier and those are appearing to be in better shape than the viniferas or the hybrids."
But the winter's ravages remain staggering, especially for the vinifera.
"We did lose 100 percent of our crop for this growing season."
Delayed effect of winter's wrath
The wineries won't take a hit on this year's crop losses for three to five years, when the 2014 vintages would be released.
And Sekerak says they could be spared in part by last year's bounty.

"We have enough juice that was leftover from this past vintage season to get us through all of 2015, possibly portions of 2016."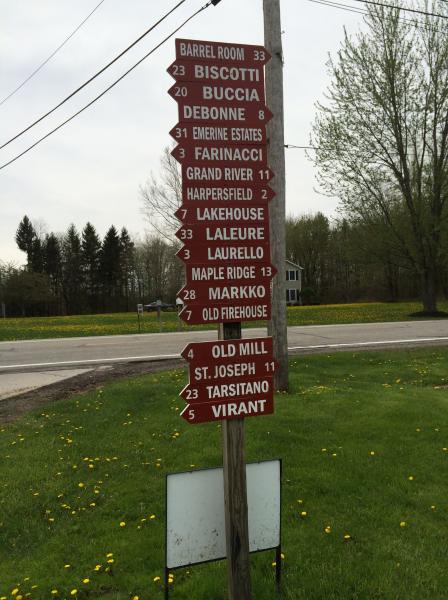 Most members of the Ohio Wine Producers Association tell Doniella Winchell the same promising news.
"Last year we had one of the largest crops in anyone's memory, so our tanks are full. And in 2012, although the crop was quite small because of the spring frost, it was of incredible quality. So for 2014, '15 and even into '16, we should have adequate supplies of everything. It's just that the growers are going to take a big financial hit."
Wine tourism dropped along with temperatures
That's on top of the impact on wine tourism. Patti Ribic owns Harpersfield Vineyards in Geneva.
"The cold weather kept patrons away. Our normal guests didn't come. So we lost revenue on that level. Meanwhile, the polar vortex decimated the vineyards to such a degree that it almost seemed hopeless at one point. But Mother Nature gives you hope again because the spring has been beautiful."
Harpersfield specializes in Chardonnay and Pinot Noir in a garden-like setting that keeps visitors like Kevin McCrone coming back.
"Just a great atmosphere and good people. The wine's some of the best of all the wineries around here. I'm sure it's been a bad year for them."
It pays to know how to relax
But as Patti Ribic sits on her patio in the spring sunshine, memories of winter melt away as she looks out at dead vines, enjoying a glass of her own wine.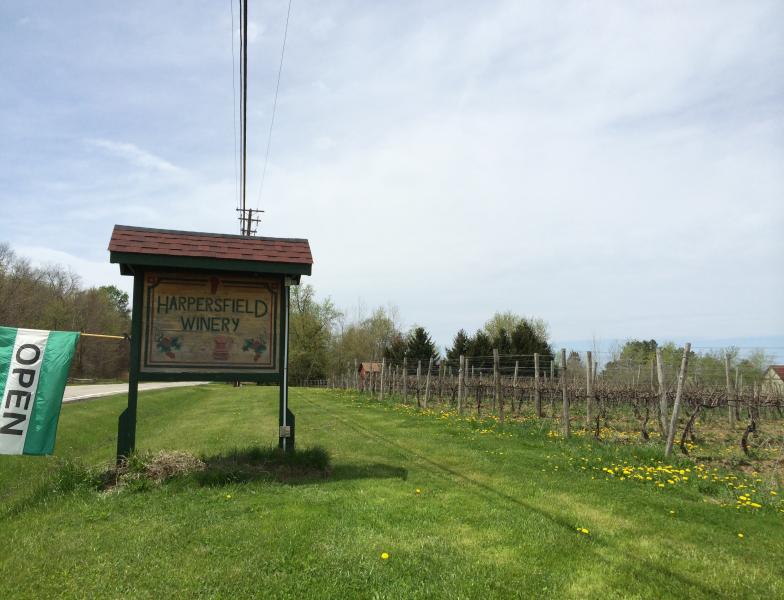 "I prefer the Chardonnay Cuvet Sans Chene. That has been my favorite since as long as I can remember. I love to sit out here with a loaf of nicely toasted French bread and maybe some warm Brie or some Munster, a nice light cheese. It just makes it all worthwhile."
And that's this week's Quick Bite. Next week we meet the new executive director of Crown Point Ecology Center in Bath as it marks its 25th anniversary.