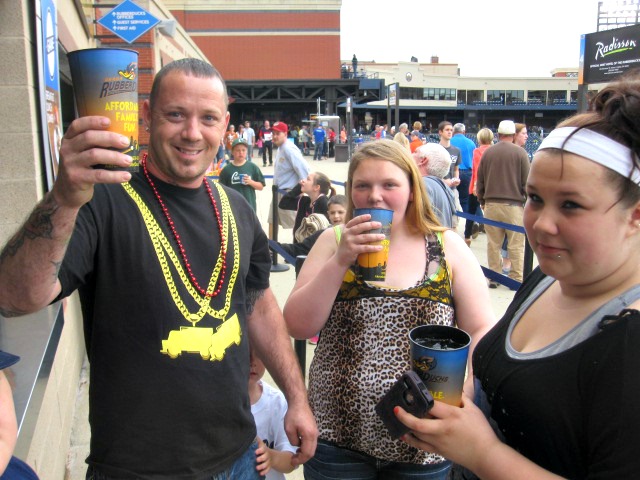 You'll hear a children's choir singing the national anthem, the crack of the bat, the constant call of "ice cold beer." There's everything you might expect at Canal Park when the RubberDucks play minor league baseball, and that includes hot dogs, peanuts, and cracker jacks.
Enormous and wacky options along with the traditional fare
There are also more outlandish food offerings than you can swing a bat at. For example, a daffy ice cream float called the "Ugly Duckling."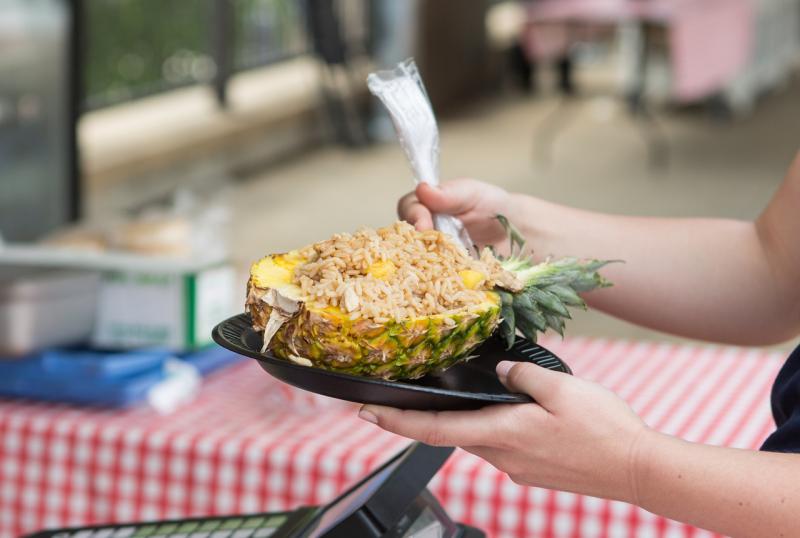 "Three scoops of Ruggles vanilla ice cream," says the vendor at the Sock Hop Ice Cream Shoppe stand behind home plate. "It also has an Irish stout beer with it. And then we top it off with some chocolate syrup as well. It's nice for someone who just wants to kind of live it up at the baseball field a little bit."
With 16 ounces of beer and chocolate sprinkles on top, the Ugly Ducking is one of a full line of "Duck Floats," part of the "Extreme Foods" menu, along
with the new TeriyAKRON bowl. That's a hollowed-out half-pineapple chock-full of diced pineapple, grilled chicken, white rice, and teriyaki sauce. It's literally out in left field, at the Nice 2 Meat U Grill behind the new Fowl Territory seating.
Switch-hitting with some healthier choices
At concession stands behind home plate, Food and Beverage Director Brian Manning caters to all kinds of appetites, especially big ones.
"We have been able to mix your classic favorites in: your hot dogs, your nachos, your popcorn, in with a lot of local favorites, a lot of fresh and healthy favorites. This year we have chicken Caesar wraps and turkey wraps available at our beer garden stand. And also we worked a lot of local businesses into it between Romeo's Pizza, Main Squeeze Lemonade, Eddie's Famous Cheese Steak."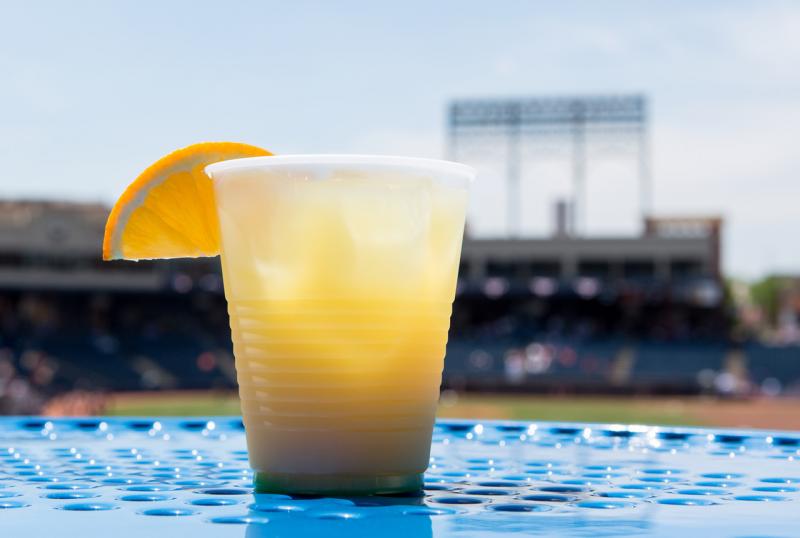 The cheese-steak stand is always Clevelander Jim Stankard's first stop. "I love 'em. Gonna take it down to my seat and enjoy it. I have season tickets for the RubberDucks. I like to watch the young kids play ball and watch them mature and move up."
Is food an important part of the experience for him? "Food and beer."
But Manning points to the fresh fruit that's also available at the stand where Stankard buys his brew.
"We've been selling bananas, oranges, and apples at the Bier Garden concession stand." Fruit
and fruit drinks for the kids, hot dogs and soft drinks for $2 every game are part of what Manning calls "affordable family fun."

"You can bring a family of five. You can get five hot dogs and five sodas for $20 which I think would be hard to find at any ballpark you see out there."
Priced to keep fans coming back
Cleveland's ballpark, Progressive Field, has lowered some concession prices. And fans can bring their own as well.
But at minor league parks, fans aren't allowed to bring in food. Spokesman Adam Lieberman says that's why having the right food at the right price is so important to the RubberDucks.
"Because they don't make money like the Indians do on media rights and what not, one of the big things is concessions here. The fine balance is you don't want it to be the movie theater set-up where you get them in and gouge them at concessions though."
Manning thinks even his higher-priced offerings are still in the ballpark.
"Wraps are still priced under $6. We offer a full cheese steak from Eddy's Famous cheese Steaks for $9."
As for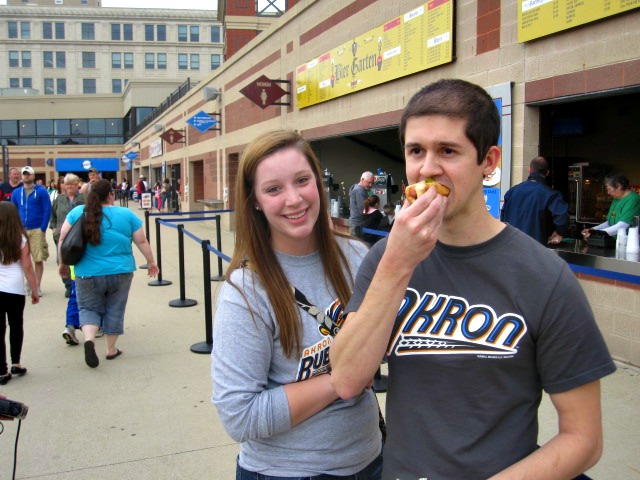 that $2 hot dog, it might be a little skimpy for adults, about as thick as your index finger. But bigger ones are available including Italian sausage, bratwurst, a jumbo hot dog, and the monumental "Three Dog Night": a hot dog wedged inside a bratwurst, stuffed inside a kielbasa, and smothered with sauerkraut.
Gargantuan but gourmet
Chef Steve Smith does what he calls a gourmet version of "Three Dog Night" at The Game, the park's new full-service restaurant, along with other upscale variations of the "Extreme Menu."
"I changed up the Nice 2 Meat U Burger a little bit. They use different kinds of patties over there. The patties that I get for the restaurant are my certain blend which is a brisket, a short rib and a chuck blend."

There's also a hot dog, cheese, onions,
and a quarter pound of bacon packed into the giant bun of the Nice 2 Meat U Burger. It's ordinary bacon at the concession stand, but at the restaurant Chef Smith uses apple cider bacon.

He also cures his own duck bacon and makes a special burger rub. "It goes on all of our burgers. I use cherry chips. I have a smoker up here so we cherry-smoke some salt, and then it gets like brown sugar, smoked salt, cayenne peppers."
His nachos are fancy, too, topped with lobster meat."My whole life has been fine dining. So I'm trying to bring good, quality food to a place like this. There's a lot of foodies now. Seems like with a lot of things on TV, a lot of people are interested in food. So I'm just trying to bring them what they want."
Not for games alone
The Game is open every day for breakfast, lunch and dinner. When the RubberDucks play ball, fans can sit on the restaurant's patio to watch through the folding glass walls, or maybe sit at the bar for happy hour and catch a few innings.
But Tom and Bev Fry of Portage Lakes didn't wait for a ballgame to get into The Game. They're here to start their day.

"The décor is very inviting, says Bev. "I'm pleasantly surprised to see a bagel on the menu as an option."Tom's a traditionalist. "I have the bacon, eggs and home fries. The bacon is very good. The eggs were done exactly as we had ordered them."
You could also breakfast at The Game on eggs with confit duck, spinach, locally sourced goat cheese and red onion marmalade. But Chef Smith seems proudest of his flaky 4-inch square biscuits. It brings back memories of his mother's Akron kitchen when he works the dough.

"Your fingers get all up in there, all messy, and you're making a big mess. And my Mom being Italian is always yelling,' Stop dropping it on the
floor!' and all that stuff. But this was always my favorite part."
Smith's a life-long baseball fan, too.

"It's a good feeling actually to come from Akron, bring them down to the downtown here and see what we got going on." Along with all the food, tomorrow night's game features an Elvis impersonator and the first 1,000 kids under 12 get replica baseball bats.
And that's this week's Quick Bite.Next week we assess the ravages of winter on Ohio's wines.