"See the pollen on that one bee? Probably from dandelions."
A good sign. It means the bees are busy. But there's still much for humans to do at the Root Candle Company bee yard.
The bees' friends get busy
On the first fine day of spring the Medina Beekeepers Association swarms in, eager to get to work. They're erecting a shed for their tools, inspecting hives, and setting up new ones.
Club president Peggy Garnes had a new high-tech hive shipped over from Denmark for club members to test.
"So as you can see we have wood hives; we have styrofoam hives. This is a styrene hive, which is a little denser. And then we have a top-bar hive. So that's another plus for the bee
club. We have all different applications of beekeeping here."

Home of the honey bee
Medina's bee club goes back to 1941 and now has more than 200 members. The town's renown as an epicenter of beekeeping dates from the mid-19th century, when A.I. Root was better known for bees and honey than candles.
What grows here is another draw. "Medina is loaded with basswood trees and people from all over the U.S. bring their hives to this location to get basswood honey," says Kim Flottum, vice president of the bee club and editor of Bee Culture Magazine.

"This is the home of beekeeping in the United States. We were the largest for many years and (are) still regarded as an important voice in the beekeeping industry."
Technology might help
The industry's changing to respond to colony collapse disorder and the myriad of other bee crises in the last 20 years.
In Ohio, the Agriculture Department reports up to 80 percent of honey bee colonies were lost over the winter. It's been getting worse. Last year's losses statewide were about 60 percent.
But one reason for hope is new technology. Jean Knudsen has heard promising things about that new Danish hive.
"The neat thing about it is that in a winter like we just had, it's very dense styrofoam and it keeps the bees warmer. And they need to maintain a temperature of 95 degrees in the wintertime in order to survive. And so they form this little ball that stays really, really hot by them flapping their little wings. And this makes it easier for them, I guess."
Tough little Russians
Peggy Garnes says the ten Russian hives her club set up last month should help, too. They're for a tougher type of bee. "Russian queens. A little darker bee. Very gentle. Cluster tighter in the winter and not use as many stores of honey. And it's very mite resistant. And that's probably our biggest problem keeping bees is the varroa mite."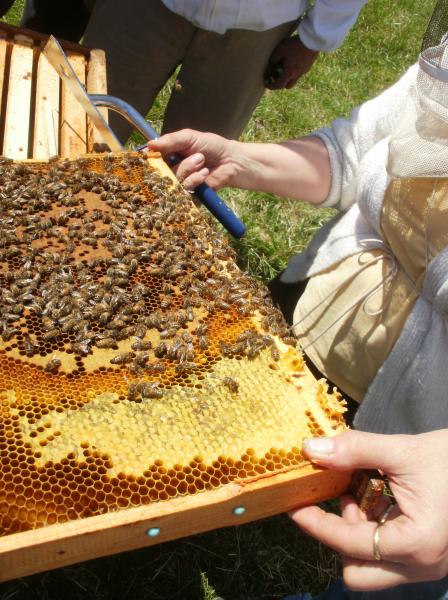 The varroa mite killed about one out of three colonies in Ohio last year.
Flottum says bees that survive all other stressors still have the problem of finding forage. "Every time you plant an acre of soybeans that wasn't an acre of soybeans before, that's one acre less of
food for bees. And we've lost a lot of land that bees were foraging on. It isn't there anymore."
That's why Flottum calls on everyone, not just beekeepers, to help. "Plant some bee food, put some flowers in your yard and garden, and plant some trees that bees visit. The more food they have, every little bit helps."

Say it with flowers

Flottum is especially encouraged by the Ohio Department of Transportation pilot program downstate, planting flowers instead of grass on roadsides.
"They don't have to mow it, they're feeding pollinators, and it's a win, win, win. Ohio citizens are saving money, ODOT's saving money, and pollinators are thriving. It's a trial program. They're looking at the numbers, but there's been a lot of states that have done this. West Virginia's done it. Louisiana's done a superb job of this. So hopefully Ohio will see the light and we'll be doing more of that up here."
Isn't it possible that the bees can adapt to what they're confronting now?

"Yes they can," says Flottum."But what happens in the meantime is the question. And making sure there are still bees on the other side by the time they adapt is what keeps me busy every day."
Kim Flottum, defender of the bees. His Bee Culture magazine comes out monthly. And next month at its regular meeting, the Medina Beekeepers Association will host another workshop for beginners.
That's this week's Quick Bite. Next week, forget the peanuts and crackerjacks as baseball food goes gourmet in Akron.