Chef Doug Katz can relate to Van Gogh's need to revise and refine in the search for perfection.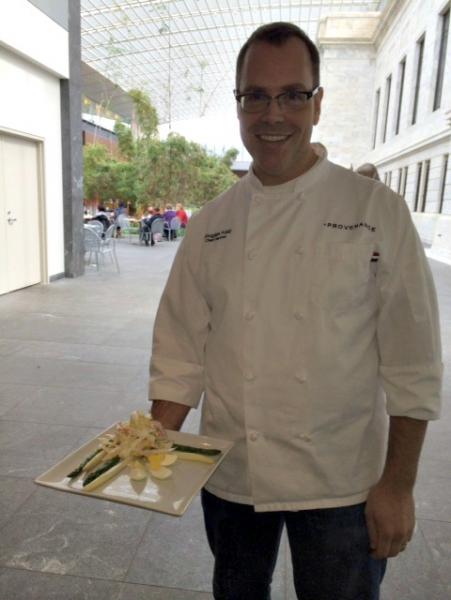 It happens in his art form, too.
"You'd want to add something, or change it, or tweak it. Repetition really comes into the kitchen every day."
One of the items on Katz's Van Gogh prix fixe menu at Provenance is inspired by the artist's practice of what he called "repetitions." More than 30 works of the genre have been on view at the art museum since early March.

Tulips and asparagus
Katz's menu is not only Dutch like Van Gogh, it repeats like him, too. "Van Gogh actually painted the same scene many different ways or many different times. So we're using green and we're using white asparagus and in a way that represents repetition."
Why asparagus? For one thing, the chef says the Dutch love it.
"When you think of tulips, you think of Dutch and you think of asparagus. These are spring things."
And pretty things. Another reason why he's using both emerald green and ivory white spears.
"It just adds a nice complement of color to the plate. And really the difference with white asparagus is that it doesn't see the light. It's actually buried in the soil so it stays white."
Asparagus is so prized in Holland they call the white variety "white gold." Every spring they hold festivals to welcome the stalks as they emerge from the soil.
Texture is the primary concern
In researching Dutch cuisine for his menu, Katz envisioned Van Gogh at lunch.
"I think he certainly would have enjoyed asparagus."
In assembling his asparagus salad, Katz's first concern is the vegetable's texture.
That's a snap. He just holds the stalk in both hands and bends it.
"And it will snap where it's tender, and then this part you actually would use on your plate," he says, holding up the top end of the spear.
But he still has to peel each and every one. "They are a little bit tough. They have that celery skin sometimes."
It's time for repetitions, just like Van Gogh. Over and over Katz picks up spears and peels, letting the shavings fall onto an over-turned deep metal pan.

No waste
"It's easier to do it on a surface that's sort of up a little bit and you have better control. You hold the asparagus and you're able to get at the part that you want to peel."
But nothing has to go to waste.

"These shavings are great if you just poach them in milk. You could do a great spring pasta with white and green asparagus with maybe a little bit of ham or prosciutto, with a little lemon zest."
Juicing, he suggests, is yet another way to use those asparagus shavings and not lose their nutrients.
Chef Katz uses different techniques for the two kinds of asparagus. The green spears are blanched quickly in water brought to a roiling boil.
"You let it just cook until it comes back to a boil, and then you shock it in cold ice water. And that sets the color and it sets the tenderness of the vegetable. And when you're using it for cooking you can actually roast it at that point and it keeps its color really nicely."
Milk adds richness
For white asparagus, the blanching's done in milk heated to a simmer. You don't want it to scorch.
"You want it just to start frothing. Then you would add your asparagus to the milk."
Blanching asparagus in milk is a classic Dutch technique for adding richness to the asparagus.

"The acidity in the milk helps tenderize the asparagus. We add salt to that milk and you could add some spice to that as well if you wanted."
To know when it's done you have to watch closely.
"It'll actually start to bend on its own when it's cooked."
And that shouldn't take more than 5 minutes.
Endive for the salad is Belgian, not quite Dutch but close enough. In order to treat the leaves as gently as possible, Katz smears hollandaise into the bottom of a mixing bowl.
"You can blend them much more easily when you have the dressing in the bowl first. You don't over drench your greens."
A pretty plate
In Holland they're big on preservation, so that's also represented on the salad plate.
"We have some pickled onions and some pickled fennel, and that will add a great acidity to the salad."
Quartered deviled eggs add even more color.
"We are in an art museum so we want to make it look beautiful."
Other Dutch specialties on the Van Gogh menu include split pea soup, steamed mussels, braised beef, and for dessert, dutch buttermilk pudding and spice cake with poached pears.
Katz says delving into Dutch cuisine enhanced his appreciation of Van Gogh. He's loved the museum ever since visiting his grandmother there as a child. She was a volunteer at the reception desk for many years,
"At a young age you look at the paintings for the beauty of the painting, whereas now I'd say there's more depth of knowledge."
Does he sometimes leave the kitchen to take a look at the Van Goghs for inspiration for his own art?
"I like to. Cooking doesn't always allow the time to do that. You have to make the time, just like you have to make the time to experience the art."
There's not much time left for Van Gogh's Repetitions, though, or the special menu that complements it. The exhibition closes on May 25th.
And that's this week's Quick Bite. Next week our subject is soul food.