It's a fundraising dinner for the Akron/Kent chapter of the Archaeological Institute of America led by Professor Tim Matney.
He says household archaeology, including digging in to what the Greeks and Romans ate, is important.
"But it's understudied compared to the larger scale economic movements of foodstuffs and water."
Matney's colleague, Professor Evi Gorogianni, says most Greeks in the classical era didn't give a fig about food, so party planners will replicate a meal from the Hellenistic era, spanning from the death of Alexander to the rise of the Roman Empire.
"They were interested in culinary luxury more than their predecessors."
Students will do the cooking
And it's a luxurious feast that awaits.
Mark Kent teaches hospitality management and culinary arts at the University of Akron.
For Wednesday night's event, he issued a challenge to students in his advanced foods class.
"They do international cuisine. So they did the research and they came up with the menu."
Young chefs learned what was typically served at a Symposion, a traditional Hellenic drinking party.
"It would take hours and it would have two parts," says Professor Gorogianni. "First it was the eating. Once that was out of the way they would start the drinking."
A drinking party but that's not all
There'd be music, dancing girls, poetry readings and oratory, too. Symposia are described in the ancient texts.
"The most famous is Athenaeus, a lot of recipes and a lot of descriptions about what went on during these dinners."
Professor Matney says archaeological digs reveal even more.
"You find the remains of some of the foodstuffs themselves. So burnt grains for example preserve quite nicely in the archaeological record. And you'll also find a more primitive version of Mark's kitchen here. Stone mortars and pestles are commonly found on archaeological sites. So a lot of evidence for the production and consumption of food even though the food itself is long gone."
Cod with seeds like those that fell from the pines of Rome

Chef Kent's students chose a main course that might have been served to Symposiasts, especially those who lived by the sea: roasted cod with a pine nut sauce.
"Actually pine seeds have been found in the archaeological excavations of Pompeii," says Gorogianni. "And for the Greeks and the Romans it was a known aphrodisiac."
Symposia were not orgies, but if you were a woman at one of these drinking parties you were either a woman of ill repute or a slave.
Or the Hellenic version of a geisha.
"Courtesans called hetaerae were supposedly very beautiful, very made up with cosmetics and beautiful garments," says Gorogianni. " But they were also great to converse with, very educated, very witty."
Women didn't get to luxuriate
But the pillowed couches were not for them.
"We have several references that women sat. Men reclined."
The nut sauce is made by grinding pine nuts with garlic, parsley, and another historic and key ingredient: tahini paste made from sesame seeds.
Gorogianni says stone tablets found in the ruins of Greek palaces show sesame's been part of the Mediterranean diet since long before the Hellenistic era.
"The Linear B tablets dating to 1200 BC mention sesame, so it was an ingredient that was very common."
Not what you get in modern Greek or Italian restaurants
But, a common appetizer in modern-day Greek restaurants will have a different kind of filling at this week's Symposion.
"We're going to do grape leaves, dolmades," says Chef Kent. "And we're going to use a bulgur stuffing with lamb."
A rice stuffing would be historically incorrect.
"The diets that we are used to today as the Mediterranean diet, and the fares that we expect at an Italian or Greek restaurant include ingredients that were simply not present in the world at the time. Like coffee, rice, or potatoes, tomatoes, especially tomatoes. Imagine a Greek salad without tomatoes."
And no Greek yogurt at next week's Symposion, except in the tzatziki sauce for spiced lamb meatballs.
Got milk? Only for cooking
Hellenistic Greeks had peculiar ideas about dairy.
"They didn't like to drink milk. They thought that was barbaric. But they did use milk and a lot of dairy products in their cooking including cheese with fish."
Cooking fish with cheese was somewhat controversial. Archestratus wrote that "Syracusan cooks spoil good fish by adding cheese."
Regional specialties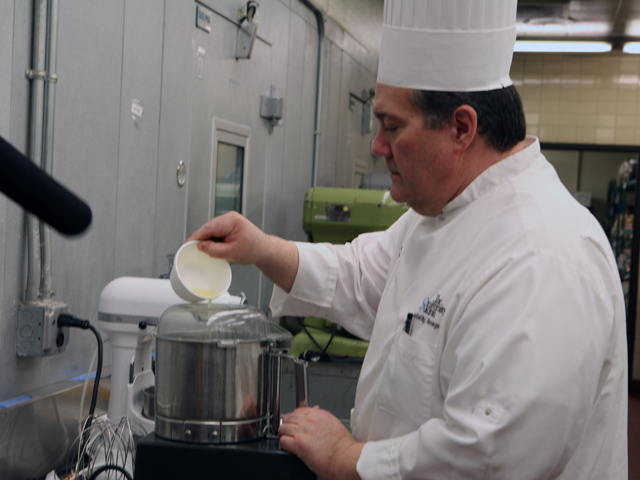 Professor Gorogianni says it was common for city-states to make fun of each other's regional cuisine. Athenians, for example, were big on moderation.
"They would prefer small dishes, a lot of variety, but a variety that would not satisfy a person's appetite."
Meanwhile Spartans lapped up their version of barley soup.
"The so-called black broth which was bland broth and bits of pork. Barley gave you strength, garlic and onions gave you might. The Spartans loved that and they would use barley bread in it which would apparently make the bread even blacker."
Gorogianni says Roman gladiators stoked up on a similar stew, on doctor's orders.
"For instance Galen, one of the doctors of the second century that wrote about it. He was a gladiator doctor. He made several comments about garlic, onions, and barley for enhancing athletes' performance."
For soldiers there were K-rations.
"Cheese, onion, and garlic. The workmen's dish was lentils."
Ate with their fingers
As for cutlery, forks hadn't been invented.
"There were knives of course to cut the food, spoons and bread for stews, but they would pick up their food with their fingers."
And rich and poor alike had wine with every meal, including breakfast when they'd dunk barley bread into it.
Moderation was an aspiration
But wine was usually watered-down.
"There are several references about undiluted wine and how it's not a habit consonant to Greekness."
Aristotle's golden mean, moderation in all things, had Symposiasts limiting themselves to three kraters, or mixing bowls, full of wine,
"But there are cases of symposia that did not observe the three-krater limit."
Symposiasts would try to soak up the alcohol with snacks like the crispy, roasted, seasoned chickpeas that'll be on the table at next week's dinner.
"Chickpeas and olives and cheese to snack on while they were drinking. They would reduce the speed at which you would get drunk. Even though drunkenness was a result of these lavish feasts it was not necessarily condoned."
Seafood was popular
Chef Kent lightly seasons a filet of cod and heats up some olive oil in his sauté pan. "And we're going to put that right in there and brown it off for a minute." He'll top it with the nut sauce and finish it in the oven for about 5 minutes.
Cod is one of the fish mentioned in the ancient sources, along with red mullet, lobster, mussels, and sea urchins which were considered a great delicacy.
If not worthy of the gods, the cod in pine nut sauce meets with approval from an archaeologist and a classical scholar.
Also on the menu for "A Taste of Greece and Rome": red lentil pilaf with couscous and fried onions, saffron-scented eggplant topped with sesame goat-cheese, parsnips with coriander, pita and hummus, lavash, and marinated olives.
And tickets are still available.
That's this week's Quick Bite. Next week we learn how to make sausage.