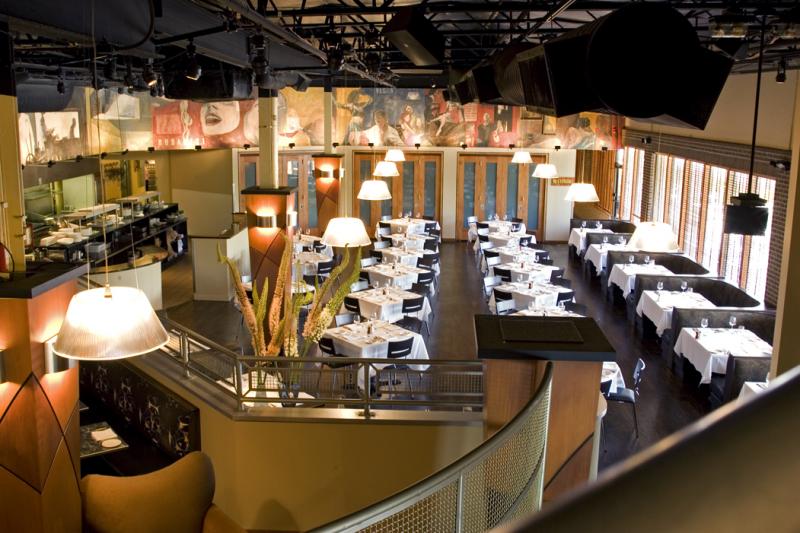 The restaurants stand side-by-side near the corner of Richmond Road and Chagrin Boulevard. Brad Friedlander opened Moxie in 1997 and nearly ten years later turned its 1500 square foot storeroom into Red, the Steakhouse.
"All my life I wanted to open a restaurant that was like the restaurants my parents used to take me to in the 50s, the kind of places that Frank Sinatra and Sammy Davis Junior would go to if they were in LA. And that was the premise upon which we built our concept. The design, the way the place looked was kind of retro-50s a little bit with some little more contemporary flair. And the food resembles the things that were on the menu back then: stuffed clams and all the different kinds of steaks and chops. We wanted to give it slightly Mediterranean flair so we added some pasta dishes also. Basically keeping it fairly simple whereas Moxie is much more complicated. Although people think that Red's the fancier restaurant and it's more expensive because meat's more expensive."
It was ethnic cuisine that got Friedlander started, first at his Dad's deli and then in 1980 when he opened a place of his own, Lopez and Gonzalez, in Cleveland Heights.
"I had spent a lot of time in my youth in Mexico. And I had a real love for Mexican food. And at that time there was no Mexican restaurant in our area and certainly nothing authentic."
Lopez and Gonzalez was a success. But now it's just Lopez.
"My ex-partner Craig runs that operation now and it's 30 some years old and it's still serving excellent food."
According to Cleveland Scene's "Best Of" edition this year, so is Friedlander. Red was named "best steakhouse in Cleveland" for its well-marbled, dry-aged Certified Angus and USDA Porterhouse steaks and filet mignons.
Red's concept worked so well in Beachwood that Friedlander took it to Miami and then Boca Raton. Last April in Boca he opened his third Florida restaurant, Rosso Italia.
"Traditional dishes in a contemporary atmosphere, not so that it's so much Italian, done in a very contemporary fashion and presentations. All fresh food as we try to do with everything, trying to buy local as we do with everything. There is a Rosso open in Florida. We do have future plans of opening a Rosso here. We don't know how soon. We
freshly just opened two restaurants in Boca Raton which will take about a year to get where we want them to be. And we have a Red opening in downtown Cleveland in spring 2013."
That's what Friedlander's most excited about. His Dad would have been proud. Alvie's on Public Square wasn't his only downtown location.
"He also had the concession at the Cleveland Stadium for some 48 years. He was referred to as the wiener czar of Cleveland. And I used to refer to myself as the second-born son of the wiener czar."
Friedlander's known for a good palate, first tested when his Dad brought home some mustard.
"His friend Joe Bertmann created the mustard and brought it to him and said' Hey Al, you think you could use this in the stadium? ' and I remember him bringing it home and giving it to my brother and my sister and me and we loved it. And that's how Stadium Mustard became Stadium Mustard."
As for fine dining, "I think there is somewhat of a decline. I don't think people want to eat in a very, very upscale environment anymore. They don't want to dress for dinner just per se. They want to eat good food in a casual atmosphere more than anything else. I think the places that do well are the places that try to give a good value and try to serve good food and people will always come."
He learned that at home, and he believes it'll work for him on East 4th street.
"My Dad's restaurant was in Public Square in the old Williamson Building which was torn down for the BP building. And we are basically one block or one and a half blocks away on Prospect and 4th street. Do you wish your family was around to see it? Yeah, I mean my father would have gotten a real kick out of everything that I've done. He was pretty excited when I opened Lopez and yeah, he got a kick out of it all."
Brad Friedlander of the Red Restaurant Group, headquartered in Beachwood. At Red the Steakhouse entrees are $25 and up, but Moxie, next door, is a little less pricey, especially on Monday nights when wine flows at half-price and the wood-burning oven bakes pizza.
And that's this week's Quick Bite. Next week we're headed to Wooster to discover how chefs pair entrees with wine.