Akron firefighter Matt Askea has faced graver challenges, but he's taking the defense of his title of National Hamburger Eating champion very seriously.
"I've been preparing my whole life for this competition." He says he's always eaten every meal as fast as he can.
Askea will face professionals Sunday afternoon in a contest open to all at Akron's Lock 3 Park. He's an amateur. Last year in just his first try, he swallowed 11 burgers in five minutes.
But on Sunday prodigious eaters like Sonya Thomas are coming in from all over the country. Thomas, also known as "The Black Widow" can eat 45 hot dogs in 10 minutes. Once she ate 183 chicken wings in 12 minutes. She's the oyster, soft-taco, crab cake, and hard-boiled egg eating champion of the world.
Where she puts it all is a mystery. She weighs only 100 pounds.
Tipping the Toledos at 180, the 5'10" firefighter thinks he can take her. "I'm doing all I can. And I have homefield advantage."
The burgers eaten at Sunday's contest will be donated by the Northeast Ohio family that claims to have invented the hamburger. At the restaurant she opened in Green 19 years ago, Linda Menches tells the story with pride.
"My great-grandfather, Charles Menches, and his brother Frank Menches were concessionaires during the turn of the century and they would take their tents and everything by railway to all the major fairs and state fairs. And they were in Erie County New York Agricultural Fair in 1885 and they were selling their sausage sandwiches, their pickled herring, all these concession foods we wouldn't think of eating at this time. And they ran out of their sausage."
The Menches brothers tried to buy sausage from other concessionaires at the fair, but all they could get was ground beef.
" They took the beef back to their tent. It was a little too bland so they added spices that we do now. It's the original recipe. And they started serving hamburgers. Meatballs, smashing them out. And then they would serve them on rye bread with ketchup and onion. Everyone asked what are you naming this. Frank looked up at the sign. It was Hamburg, New York. He said we're going to call it the "hamburg."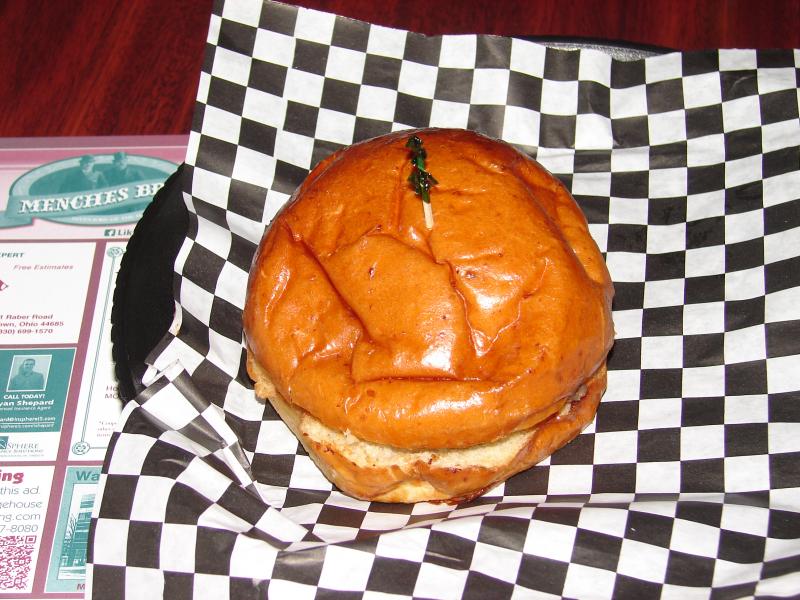 Frank and Charles Menches eventually packed away their tents, got off the state fair circuit, and opened a bricks and mortar restaurant.
"They had one in downtown Canton. President McKinley, then Congressman McKinley would walk down and have lunch there. Then in 1896 they moved their business up into Akron and they had the Liberty Theater and they had a restaurant as well there."
Did the Menches brothers really invent the hamburger? Not according to the Library of Congress. It says Louis Lassen grilled up the first one in the year 1900 in New Haven, Connecticut. And if you go to Athens, Texas they'll tell you a man named Fletcher Davis formed the first burger patty.
Linda Menches is used to these counter-claims. She gets the same grief about another one of her great-grand-dad's alleged inventions, the ice-cream cone. She says he introduced that in St Louis at the 1904 World's Fair.
" Yeah, it's disputed as well. They're all disputed but we're laying our claim. We're just sticking by our story."
...And hanging on to a family heirloom: the key to the city of Hamburg, New York.