Ami Gignac starts most days with her feathered friends in a retrofitted school bus that serves as a mobile chicken coop. Sixty laying hens including 20 leghorns live with her and Tim Fox on their Portage County farm.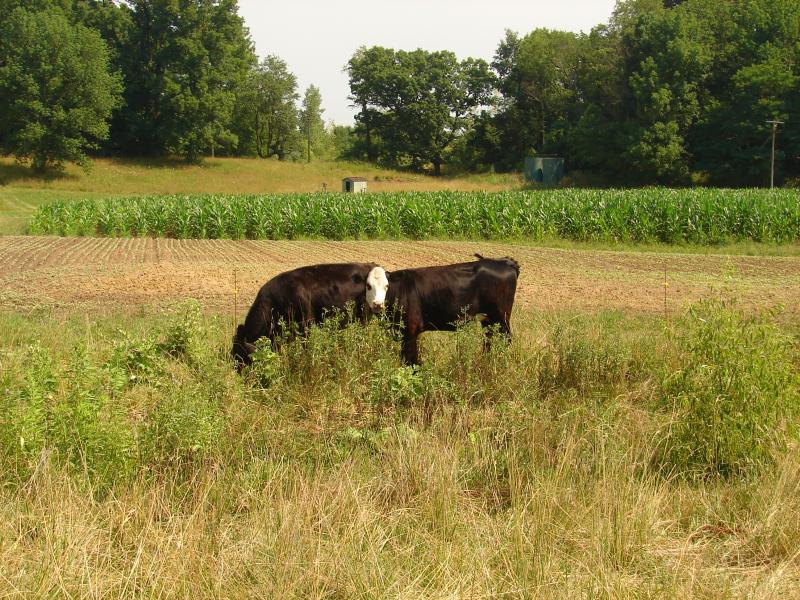 The Breakneck Acres cows spend
a lot of time with the chickens. The
birds groom the cows by pecking
insects off their hides.
Photo by Edward Duvall.
"And then we've just recently taken on two cows. They are grass-fed beef that we will later use for meat."
The cows have quite a salad bar. Breakneck Acres sits on 35 lush acres not far from Kent State University in Portage County.
RETURNING TO HIS ROOTS
Tim Fox grew up on a dairy farm. "Basically I guess it's still part of my heritage."
Amy had been a city girl. She realizes they're getting into farming at the right time, at the peak of the farm-to-table movement.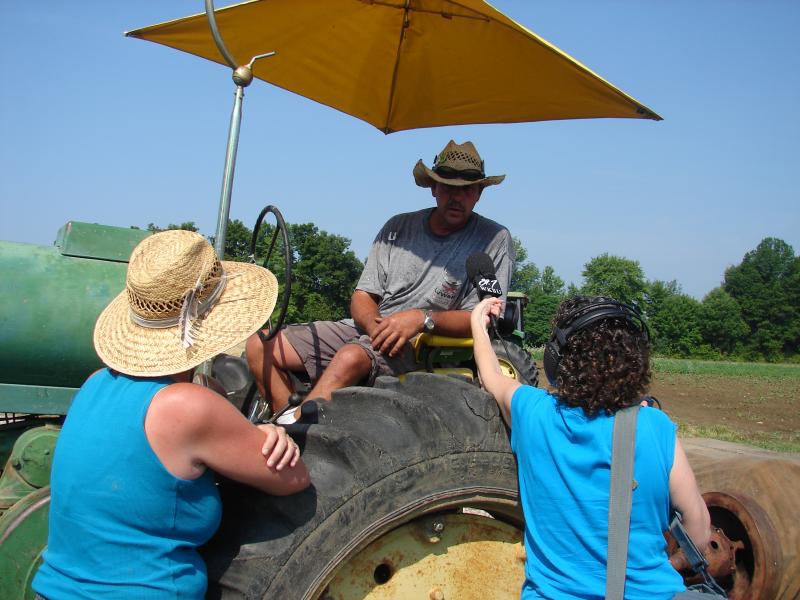 Tim Fox hasn't quite given up his
day job. He still does welding,
rigging and iron work, but puts in
many hours on the farm.
Photo by Edward Duvall.
"But it wasn't planned. The transition was for personal reasons. I was 70 pounds heavier than you see me today. My blood pressure was 160 over 100. I had this great 6-figure salary but I wasn't healthy and I wasn't happy."
She'd been the general manager of a small mining company. They were living in Kent in 2006 when Tim found the property they turned into Breakneck Acres.
THE SKILLS TRANSFER
"When I was in the mining business there was always this piece tied to sustainability and being environmentally conscious and a lot of that transitioned over. And then of course the financial management, the human resource issues, all of that has really transitioned nicely. And I think the difference is when I have a meeting I have cowboy boots on and before I had high heels."
At first farming had been only a hobby.
Ami and Tim are fond of farm
machinery and Tim is good at
fixing older models to save on
costs.
Photo by Edward Duvall.
"We had started out as row crop farmers and transitioned recently into doing seasonal produce and also specialty grains that we mill on the farm. Our primary is the wheat, corn and beans. We grow a special variety of a hard red winter wheat and hard red spring wheat that are high in protein and excellent for milling and for bread-baking. We grow a special variety of corn that's a little sweeter than your typical field corn, lovely for corn meal, grits, and polenta. We also grow soybeans and different varieties of heirloom dry beans that are lovely for soups and that sort of thing. I think this year we have 5 varieties in the ground from an heirloom Black Turtle to Jacob's Cattle, and one called Tiger's Eye. We're also looking for some wholesale customers. So we're working with Breadsmith in Lakewood and they do a lovely loaf of bread that uses all local ingredients that's really cool. And we're also just starting to work with Ohio City Pasta on some signature pastas that will offer local ingredients which is also really neat because we love pasta."
LISTED IN THE GOOD EARTH GUIDE
Ohio farms that sell directly to customers are listed in the Ohio Ecological Food and Farm Association's Good Earth Guide. Published since 1990 , it's grown from a list of a dozen or so to 350 farms including organic farms, like Breakneck Acres.
"Now that we are certified organic it's important for me then to keep our information updated because I would guess that about ten percent of our customers find us via the good earth guide. Customers that are specifically looking for specialty products. I've even had someone from Malaysia call to talk to me a little bit about milling that said they had found us from the Good Earth Guide and then did a little more research on us so that was really cool."
STONE MILLS FLOWN IN FROM EUROPE
One of the farm buildings houses two hand-crafted East Tyrolean stone mills they had shipped over from Austria.
Mills for the specialty grains were
imported from a century-old firm
in Austria.
Photo by Edward Duvall.
"Stone milling keeps the temperature really below 140 degrees as it mills, says Gignac." And so you don't lose as much of the nutritional value as you would with some of the burr milling."
Amy claims her chickens taste great and it might be because they feed on a gourmet blend.
"We use stone ground corn, buckwheat and hard red winter wheat and then we also add some trace minerals, some salt, some sea kelp. It's great. In fact Tim taste-tests it each time I make a batch. They eat better than we do!"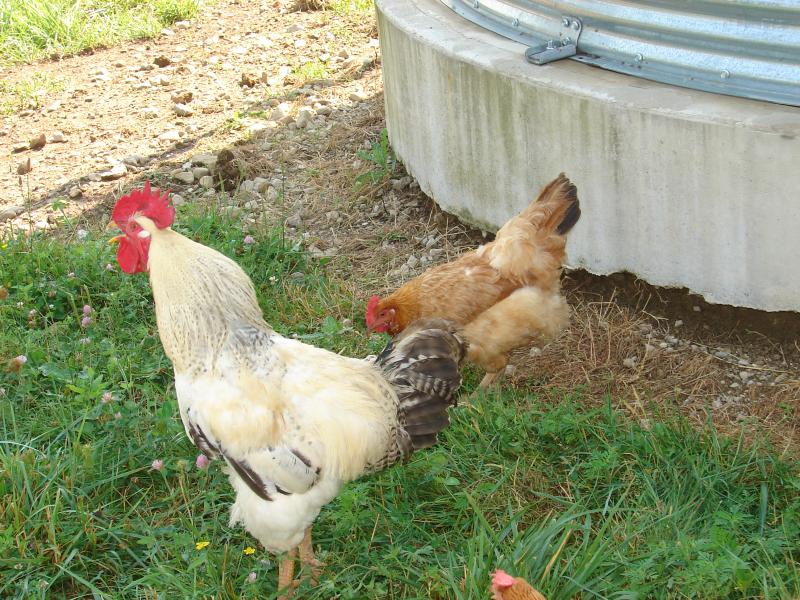 Luther the rooster is husband
to 60 laying hens and takes the
job very seriously.
Photo by Edward Duvall.
She says she and her partner have no regrets about buying the farm. And they plan to keep life simple.
"We're not going to go into 'big Ag.' We appreciate that we do need to grow to be sustainable and really for both of us to officially quit our day jobs. But it's a slow growth and its making small steps in the directions that keep Tim and I healthy and happy and stress-free."
Amy Gignac and Tim Fox sell their specialty grains, beans, organic vegetables and herbs and free-range eggs every Wednesday afternoon at the farm. They're also at the Kent and Ravenna farmers' markets.
And that's this week's Quick Bites. Join us next Friday when we meet a Marine combat veteran who bakes croissants in Cuyahoga Falls.