Loading...


From WKYC.COM / TV 3
Get the latest school closings and delays
Courts and Crime




Monday, January 4, 2016




Tamir Rice protests to continue as activists add new strategies




The reaction to the grand-jury decision is going beyond street demonstrations


by WKSU's KEVIN NIEDERMIER
This story is part of a special series.



Reporter
Kevin Niedermier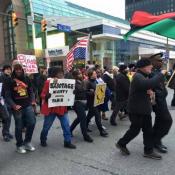 Protests over the grand jury's decision in the Rice case are just one part of the reaction.
Courtesy of WKYC
Download (WKSU Only)
Activists say peaceful protests will continue around Cleveland in response to last month's grand-jury decision not to indict the officers involved the fatal shooting of Tamir Rice.

Since the decision two weeks ago, many of the demonstrations have involved about a dozen protesters, some blocking downtown traffic. Cleveland activist Rachelle Smith helps organize the protests and says the numbers tell only part of the story. She says for each protester, many more people are working behind the scenes on the issue.
"I think we'll continue to see a small but steady protest presence. And there are about 10 people behind them working on different elements of protest. There are people that are engaged in the police reforms and implementation of the consent decree."
Since the grand jury's decision in the Rice case, activists have been calling for Cuyahoga County Prosecutor Tim McGinty to leave office for recommending that the officers not be charged. They have announced that they have a candidate to challenge McGinty this year. At this point, they will only say the challenger is a woman who works for the city of Cleveland.
Page Options
Print this page
---
---
---
---
Stories with Recent Comments