It was vintage Bill Clinton: commanding presence; engaging smile; and a plain language, assured way of putting things.
President Obama was to have been with him, along with Vice President Joe Biden. But Mr. Obama stayed in Washington to monitor storm relief.
So, it was the Bill and Joe show at the Covelli Center in downtown Youngstown. And they went at the task each in characteristic style.
Joe Biden carried the "Forward" theme of the campaign, and talked of the need to protect the futures of middle class Americans, and assure care for the older people, those in need and veterans.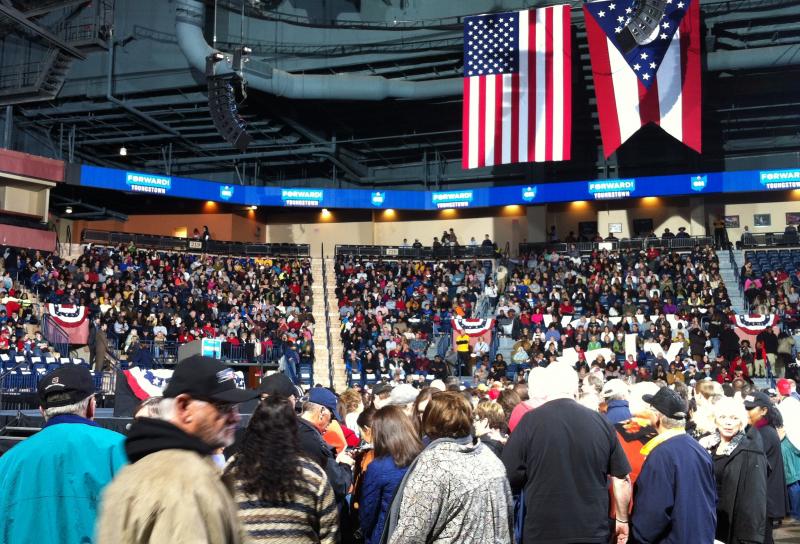 Former President Clinton talked in practical terms. Like what he called the wrong-way effect of plans Republicans have to "gut" government spending on academic research. "I spent three billion dollars of YOUR money to map the human genome. And do you know how much economic activity came from that. Over twelve years: $92 billion. That's how you build an economy."
The former president also denounced Romney campaign claims that Chrysler, one of the automakers bailed out in the Obama economic recovery plan, is moving some Jeep production to China. "…They reopening operations in China because they've made so much money here that they can afford to do it. They are roaring in America, thanks to people like the people of Ohio."
Bill Clinton carried Youngstown, Mahoning County and Ohio in his 1992 and 1996 election campaigns.
Both presidential campaigns have scaled back their Ohio visits this week in light of the storm. Biden called off visits today to Wooster and Gambier, and Gov. Romney has changed his appearance in Ketterington this morning into a "storm relief event."