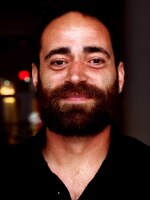 Matthew Richmond
Reporter/Producer
Matthew Richmond is a general assignment reporter at Ideastream Public Media who focuses on criminal justice.
Matthew started his career in journalism as a stringer covering South Sudan's independence in 2011. After that, he covered the debate over hydraulic fracturing coming to New York State while based in Ithaca.
Matthew is originally from California, he has served as a Peace Corps volunteer in Cameroon and a commercial fisherman in Alaska, he was once offered a job with a traveling circus during a visit to New Orleans and attended journalism school at the University of Southern California.
Walker, a 25-year-old Black man, was shot and killed by Akron police following a car chase early Monday.

Charlotte Perkins has run R-Cap private security on Cleveland's East Side for 22 years.

Ohio's Heartbeat Bill passed in 2019 and went into effect Friday after the U.S. Supreme Court overturned Roe v. Wade.

Conor O'Boyle says he is seeking accountability for the sheriff's deputies who fired into the crowd that day.

Trevor Elkins pleaded guilty in April to three charges: two election falsification charges and an attempted theft in office charge.

Antoine Tolbert was arrested and taken to county jail after carrying a shotgun down St. Clair Avenue on Cleveland's East Side. The charges were quickly dropped.

Cleveland police released video of the shooting Thursday and said a firearm was recovered at the scene.

42-year-old Demond Eskridge was able to take a CMHA officer's gun during a struggle before being shot.

The former Cuyahoga County commissioner had requested a more substantial reduction because of age, health and sentencing disparity.

Mayor Justin Bibb has said he'll send 10 nominations to council in July.