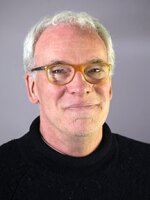 Mark Pennell is our somewhat colorful, morning and mid-day personality. He joined the staff of WKSU in the early fall of 1996. Since arriving he has claimed "Announcer of the Year" for 1997 in public radio. Previously, he could have been heard on WOSU in his native city, Columbus. He also is a voice-over talent in radio and TV. Prior experience has come from other radio stations in the Midwest region. He studied at Ohio State University in Communications. Mark's family of two sons, a daughter and wife, Amy (an artist), reside in a historical home in north Kent. The character and history of the house is wonderful, but the house needs a new furnace (the old one reminds him of Marianne, the steam shovel from a favorite children's book), and Mark spent his whole summer last year painting and repairing the house. Oh, well, it comes with the territory. He still likes it. Mark is an active member in his church, Riverwood Community Chapel. His hobbies are: golf (he stinks at it), and cars (his dream-car, a Mini Cooper is only driven when the weather is good which is why he only puts about 5,000 miles on it a year). History is a special hobby for Mark, as one could tell by listening to his show. Mark's favorite parts of his show are the facts and amusing tidbits on the composers that he shares with listeners. He feels this brings a sense of connection and humility to classical music that is greatly needed, so that everyone can enjoy it. A brief bio on Mark's favorites: Composer: Depends on the time of day Piece: Schubert's "Unfinished" symphony Artist: Peter Serkin or Michael Murray Color: Green or red Food: Steak, "Dump" (a concoction of maple sausage, hashbrowns, eggs, and cheese wrapped in a soft tortilla shell) and Graters ice cream (Mint Chocolate Chip) From Mark—"Moving to Kent has been one of the best things I have ever done. It's been a very good experience for me and my family. The people are genuinely nice and really interested in listening to WKSU. The countryside is truly beautiful too. Northeast Ohio has a wonderful support for the arts and I enjoy being in that company."
It was on this date in 197 that the very first car dealership opened in London. And it was on this date in 1906 that Henry Ford became the President of the Ford Motor Company.

It was on this date in 1960 that John F. Kennedy and Richard Nixon sparred one last time in their presidential debates. And it was on this date in 1964 that the film version of the musical, My Fair Lady, premiered in New York.

It was on this date in 1877 that Franz Schubert's Second Symphony in B, 28 years after the composer's death. And it was on this date in 1965 that The Beatles received a gold record for their song "Yesterday."

It was on this date in 1864 that Confederate officer Bennett H. Young led a raid on St. Albans, Vermont during the U.S. Civil War. Young wanted to conduct raids on the Union from the Canada–US border to build the Confederate treasury by robbing banks and also forcing the Union Army to divert troops from the South.

It was on this date in 1920 that Charles Perkins Strite received his patent for the world's first pop-up toaster. And it was on this date in 1954 that the first transistor radio was produced.

It was on this date in 1520 that King Henry VIII of England ordered bowling lanes to be added to his palace at Whitehall. And it was on this date in 1860 that an 11-year-old girl wrote U.S. presidential candidate Abraham Lincoln, encouraging him to grow a beard.

It was on this date in 1947 that U.S. Airforce Captain Chuck Yeager became the first person to fly faster than the speed of sound. And it was on this date in 1964 that Rev. Dr. Martin Luther King Jr. won the Nobel Peace Prize for his work with non-violent resistance against racial prejudice.

It was on this date in 54 that Tiberius Caesar Augustus died from being poisoned. And it was on this date in 1943 that General Pietro Badoglio gave full cooperation of Italian troops to Allied forces in recapturing Rome.

It was on this date in 1492 that Christopher Columbus sailed the ocean blue. And it was on this date in 1972 that Magic Johnson made his debut in the NBA.

It was on this date in 1945 that the Chinese Civil War started between communist and national fractions in the country. And it was on this date in 1975 that Saturday Night Live premiered.