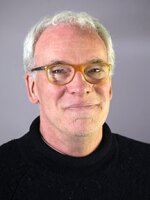 Mark Pennell is our somewhat colorful, morning and mid-day personality. He joined the staff of WKSU in the early fall of 1996. Since arriving he has claimed "Announcer of the Year" for 1997 in public radio. Previously, he could have been heard on WOSU in his native city, Columbus. He also is a voice-over talent in radio and TV. Prior experience has come from other radio stations in the Midwest region. He studied at Ohio State University in Communications. Mark's family of two sons, a daughter and wife, Amy (an artist), reside in a historical home in north Kent. The character and history of the house is wonderful, but the house needs a new furnace (the old one reminds him of Marianne, the steam shovel from a favorite children's book), and Mark spent his whole summer last year painting and repairing the house. Oh, well, it comes with the territory. He still likes it. Mark is an active member in his church, Riverwood Community Chapel. His hobbies are: golf (he stinks at it), and cars (his dream-car, a Mini Cooper is only driven when the weather is good which is why he only puts about 5,000 miles on it a year). History is a special hobby for Mark, as one could tell by listening to his show. Mark's favorite parts of his show are the facts and amusing tidbits on the composers that he shares with listeners. He feels this brings a sense of connection and humility to classical music that is greatly needed, so that everyone can enjoy it. A brief bio on Mark's favorites: Composer: Depends on the time of day Piece: Schubert's "Unfinished" symphony Artist: Peter Serkin or Michael Murray Color: Green or red Food: Steak, "Dump" (a concoction of maple sausage, hashbrowns, eggs, and cheese wrapped in a soft tortilla shell) and Graters ice cream (Mint Chocolate Chip) From Mark—"Moving to Kent has been one of the best things I have ever done. It's been a very good experience for me and my family. The people are genuinely nice and really interested in listening to WKSU. The countryside is truly beautiful too. Northeast Ohio has a wonderful support for the arts and I enjoy being in that company."
It was on this date in 1911 that the Triangle Shirtwaist Company sweatshop fire occurred. The fire led to better legislation being passed that would improve working conditions.

It was on this date in 1839 that the term 'okay' was first used. Within a year, the term became so popular that presidential candidates began using it. And it was on this date in 1921 that Germany announced it couldn't pay reparations to the Allies as stipulated in the Treaty of Versailles.

It was on this date in 1892 that the first long-distance phone call took place. It was between the mayors of Chicago and New York City. It was also on this date in 1932 that the first radio broadcast from something moving took place on a train.

It was on this date in 1933 that U.S. President Franklin D. Roosevelt signed the Cullen–Harrison Act. The act legalized the sale of beer and wine only containing up to 3.2% of alcohol. The 21st Amendment fully legalizing alcohol would be ratified later that year. And it was on this date in 1941 that Jimmy Stewart became the first major Hollywood actor to serve in WWII.

It was on this date in 1844 that Baptist preacher William Miller predicted the return of Christ and the end of the world. When it didn't come true, it became known as the Great Disappointment. And it was on this date in 1944 that the sale of an alarm clock nearly caused a riot in Chicago.

It was on this date in 1877 that President Rutherford B. Hayes appointed Frederick Douglass the U.S. Marshal of the District of Columbia. And it was on this date in 1966 that the Scott Paper Company introduced a wearable disposable paper dress.

It was on this date in 461 that Saint Patrick is said to have died. Today we celebrate the day as St. Patrick's Day.

It was on this date in 1867 that Joseph Lister published his first article outlying the discovery of antiseptic surgery. And it was on this date in 1935 that Adolf Hitler openly ordered German rearmament, in direct violation of the Treaty of Versaille.

It was on this date in 44 BC that Julius Caesar was stabbed to death by Brutus, Cassius, and several other Roman Senators. And it was on this date in 1892 that Jesse Wilford Reno patented what would become the modern escalator.

It was on this date in 1794 that Eli Whitney patented the cotton gin. And it was on this date in 1971 that the Rolling Stones decided to leave England and move to France to avoid paying taxes.