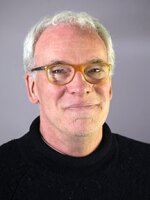 Mark Pennell is our somewhat colorful, morning and mid-day personality. He joined the staff of WKSU in the early fall of 1996. Since arriving he has claimed "Announcer of the Year" for 1997 in public radio. Previously, he could have been heard on WOSU in his native city, Columbus. He also is a voice-over talent in radio and TV. Prior experience has come from other radio stations in the Midwest region. He studied at Ohio State University in Communications. Mark's family of two sons, a daughter and wife, Amy (an artist), reside in a historical home in north Kent. The character and history of the house is wonderful, but the house needs a new furnace (the old one reminds him of Marianne, the steam shovel from a favorite children's book), and Mark spent his whole summer last year painting and repairing the house. Oh, well, it comes with the territory. He still likes it. Mark is an active member in his church, Riverwood Community Chapel. His hobbies are: golf (he stinks at it), and cars (his dream-car, a Mini Cooper is only driven when the weather is good which is why he only puts about 5,000 miles on it a year). History is a special hobby for Mark, as one could tell by listening to his show. Mark's favorite parts of his show are the facts and amusing tidbits on the composers that he shares with listeners. He feels this brings a sense of connection and humility to classical music that is greatly needed, so that everyone can enjoy it. A brief bio on Mark's favorites: Composer: Depends on the time of day Piece: Schubert's "Unfinished" symphony Artist: Peter Serkin or Michael Murray Color: Green or red Food: Steak, "Dump" (a concoction of maple sausage, hashbrowns, eggs, and cheese wrapped in a soft tortilla shell) and Graters ice cream (Mint Chocolate Chip) From Mark—"Moving to Kent has been one of the best things I have ever done. It's been a very good experience for me and my family. The people are genuinely nice and really interested in listening to WKSU. The countryside is truly beautiful too. Northeast Ohio has a wonderful support for the arts and I enjoy being in that company."
It was on this date in 1972 that the Buffalo Creek flood occurred in West Virginia. The Pittston Coal Company dam broke, cascading wastewater down into mining towns below. And it was on this date in 1976 that a live kidney transplant occurred on NBC's Today Show.

It was on this date in 1751 that the first performing monkey was exhibited in the U.S. And it was on this date in 1919 that the state of Oregon began collecting a tax on gasoline.

It was on this date in 1942 that the Battle of Los Angeles took place in California. Air raid sirens and a blackout was ordered after blinking lights and flares were seen in the sky, thought to be a Japanese attack on the city. It turned out to be a false alarm.

It was on this date in 1455 that Johannes Gutenberg was thought to have printed the first bible on a movable-type printing press. And it was on this date in 1847 that American forces won the Battle of Buena Vista in the Mexican-American War.

It was on this date in 1847 that the Battle of Buena Vista started in the Mexican-American War. And it was on this date in 1854 that the first meeting of the Republican Party took place.

It was on this date in 1906 that Kellogg's cereal was founded. And it was on this date in 1968 that Mister Roger's Neighborhood debuted on NET, which is now PBS.

It was on this date in 1804, the Ohio General Assembly passed an act to establish Ohio University. And it was on this date in 1856 that the Know Nothing party met in Philadelphia to nominate former President Millard Fillmore as their candidate for president.

It was on this date in 1904 that Madama Butterfly premiered at La Scala in Milan, Italy. And it was on this date in 1913 that the International Exposition of Modern Art in New York took place that featured works by Pablo Picasso, Henri Matisse, Mary Cassatt for the first time.

It was on this date in 600 that Pope Gregory the Great put out a decree that one should say "God bless you" when someone else sneezed. It was thought this would combat the bubonic plague that was ravaging Europe at that time. And it was on this date in 1943, Winston Churchill's doctor was called after having a high temperature. His doctor ordered the smokers in the room to leave due to Churchill being dangerously ill.

It was on this date in 1867 that Johann Strauss II premiered "The Blue Danube Waltz." And it was on this date in 1936, Adolf Hitler announced the creation of the Volkswagen Beetle car.