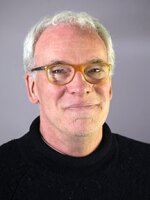 Mark Pennell is our somewhat colorful, morning and mid-day personality. He joined the staff of WKSU in the early fall of 1996. Since arriving he has claimed "Announcer of the Year" for 1997 in public radio. Previously, he could have been heard on WOSU in his native city, Columbus. He also is a voice-over talent in radio and TV. Prior experience has come from other radio stations in the Midwest region. He studied at Ohio State University in Communications. Mark's family of two sons, a daughter and wife, Amy (an artist), reside in a historical home in north Kent. The character and history of the house is wonderful, but the house needs a new furnace (the old one reminds him of Marianne, the steam shovel from a favorite children's book), and Mark spent his whole summer last year painting and repairing the house. Oh, well, it comes with the territory. He still likes it. Mark is an active member in his church, Riverwood Community Chapel. His hobbies are: golf (he stinks at it), and cars (his dream-car, a Mini Cooper is only driven when the weather is good which is why he only puts about 5,000 miles on it a year). History is a special hobby for Mark, as one could tell by listening to his show. Mark's favorite parts of his show are the facts and amusing tidbits on the composers that he shares with listeners. He feels this brings a sense of connection and humility to classical music that is greatly needed, so that everyone can enjoy it. A brief bio on Mark's favorites: Composer: Depends on the time of day Piece: Schubert's "Unfinished" symphony Artist: Peter Serkin or Michael Murray Color: Green or red Food: Steak, "Dump" (a concoction of maple sausage, hashbrowns, eggs, and cheese wrapped in a soft tortilla shell) and Graters ice cream (Mint Chocolate Chip) From Mark—"Moving to Kent has been one of the best things I have ever done. It's been a very good experience for me and my family. The people are genuinely nice and really interested in listening to WKSU. The countryside is truly beautiful too. Northeast Ohio has a wonderful support for the arts and I enjoy being in that company."
It was on this date in 1890 that Italian composer Pietro Mascagni premiered his Cavalleria rusticana opera. And it was on this date in 1975 that Rolling Stone frontman, Mic Jagger, lost his balance at a restaurant causing his right hand to go through a glass window. He suffered severe cuts and required 20 stitches to his hand.

It was on this date in 1804 that Lewis and Clark's expedition set out to the west coast. On top of the usual supplies for the trip, Meriwether Lewis brought bees, facepaint, knives, tobacco, ivory combs, bright-colored cloth, mirrors, and more as gifts for the Native Americans.

It was on this date in 1958 that then-Vice President Richard Nixon's motorcade was stopped by a large mob in Venezuela. The car's windows were broken and Secret Service agents pulled out their weapons before the motorcade sped away. And it was on this date in 1966 that the Rolling Stones released "Paint It, Black."

It was on this date in 1789, British MP William Wilberforce gave his first speech to Parliament on the abolition of slavery. And it was on this date in 1908, Nathan B. Stubblefield filed a patent for wireless radio broadcasting.

It was on this date in 1963 that "Puff, the Magic Dragon" by Peter, Paul, and Mary went to number 2 on the Billboard Hot 100. And it was on this date in 1968 that "MacArthur Park" by Richard Harris premiered.

It was on this date in 1837 began the Panic of 1837. It was a financial crisis in the United States that touched off a major depression, which lasted until the mid-1840s. And it was on this date in 1872 that the Equal Rights Party nominated the first woman for president.

It was on this date in 1914 that U.S. President Woodrow Wilson issued a presidential proclamation to celebrate America's mothers. And it was on this date in 1941 that Glenn Miller recorded one of the biggest swing songs of the era, "Chattanooga Choo Choo."

It was on this date in 1837 that John Deere revolutionalized the plow. And it was on this date in 1994 that Britain and Europe were linked by a tunnel under the English Channel.

It was on this date in 1865 that the first-ever train robbery in the United States took place. The robbers held up 100 passengers on a train 18 miles west of Cincinnati. And it was on this date in 1986 that it was announced that Cleveland would be the site of the Rock and Roll Hall of Fame.

It was on this date in 1893 that the National Cordage Co. declared bankruptcy after trying to corner the hemp market. Their bankruptcy led to the Panic of 1893, the worst depression to hit the U.S. until 1929. And it was on this date in 1932 that Al Capone began his prison sentence for tax evasion.