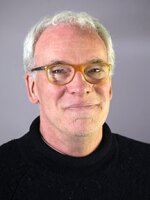 Mark Pennell is our somewhat colorful, morning and mid-day personality. He joined the staff of WKSU in the early fall of 1996. Since arriving he has claimed "Announcer of the Year" for 1997 in public radio. Previously, he could have been heard on WOSU in his native city, Columbus. He also is a voice-over talent in radio and TV. Prior experience has come from other radio stations in the Midwest region. He studied at Ohio State University in Communications. Mark's family of two sons, a daughter and wife, Amy (an artist), reside in a historical home in north Kent. The character and history of the house is wonderful, but the house needs a new furnace (the old one reminds him of Marianne, the steam shovel from a favorite children's book), and Mark spent his whole summer last year painting and repairing the house. Oh, well, it comes with the territory. He still likes it. Mark is an active member in his church, Riverwood Community Chapel. His hobbies are: golf (he stinks at it), and cars (his dream-car, a Mini Cooper is only driven when the weather is good which is why he only puts about 5,000 miles on it a year). History is a special hobby for Mark, as one could tell by listening to his show. Mark's favorite parts of his show are the facts and amusing tidbits on the composers that he shares with listeners. He feels this brings a sense of connection and humility to classical music that is greatly needed, so that everyone can enjoy it. A brief bio on Mark's favorites: Composer: Depends on the time of day Piece: Schubert's "Unfinished" symphony Artist: Peter Serkin or Michael Murray Color: Green or red Food: Steak, "Dump" (a concoction of maple sausage, hashbrowns, eggs, and cheese wrapped in a soft tortilla shell) and Graters ice cream (Mint Chocolate Chip) From Mark—"Moving to Kent has been one of the best things I have ever done. It's been a very good experience for me and my family. The people are genuinely nice and really interested in listening to WKSU. The countryside is truly beautiful too. Northeast Ohio has a wonderful support for the arts and I enjoy being in that company."
It was on this date in 1905 that the first ad for radio was printed in Scientific American magazine. And on this date in 1949, the song Rudolph the Red-Nosed Reindeer premiered. The song went to number one on the charts through the holidays.

It was on this date in 1874, Joseph Glidden received a patent for barbed wire. And on this date in 1947, the Hollywood Ten were found in contempt for their refusal to reveal whether they were communists to the House Un-American Activities Committee.

It was on this date in 1903 that Enrico Caruso opened the season at the New York Metropolitan Opera. And on this date in 1942, the German army was surrounded in Stalingrad. The Battle of Stalingrad was one of the deadliest battles of World War II.

It was on this date in 1945, the first of thirteen Nuremberg trials began. The military tribunals centered on Nazi crimes against peace, war crimes, and crimes against humanity. The most famous case was that of Hermann Goering, the former head of the Luftwaffe.

It was on this date in 1863 that President Abraham Lincoln gave the Gettysburg Address. And on this date in 1964, Kellogg's introduced the morning treat, Pop-Tarts.

It was on this date in 1872 in Rochester, NY that suffragette Susan B. Anthony was charged with illegally voting. And on this date in 1963, the Bell system introduced the first electronic push button telephone.

It was on this date in 1884, the New York State Supreme Court ruled that John L. Sullivan had not been involved in an illegal prize fight. And it was on this date in 1933 that the Marx Brothers debuted their movie, Duck Soup.

On this date in 1801, the New York Evening Post debuted. The paper was put into motion by founding father, Alexander Hamilton. And it was on this date in 1959, the original Broadway production of The Sound of Music debuted.

It was on this date in 1895, the first shipment of canned pineapples arrived from Hawaii. And on this date in 1967, Carl Stokes was sworn in as the first Black mayor of an American city. That city was Cleveland, Ohio.

It was on this date in 1900, the Exposition Universelle in Paris closed. The most famous structure created for the exposition was the Eiffel Tower. And it was on this date in 1948, Japanese Prime Minister and general, Hideki Tojo was sentenced to death by a war crimes tribunal.