Loading...


From WKYC.COM / TV 3
Get the latest school closings and delays
Government and Politics




Tuesday, February 2, 2016




Gov. John Kasich avoids Iowa, ties for seventh overall among GOP presidential hopefuls




Kasich skipped the Iowa caucuses to focus on his New Hampshire campaign strategy




by WKSU's STATEHOUSE BUREAU CHIEF KAREN KASLER


This story is part of a special series.



Reporter
Karen Kasler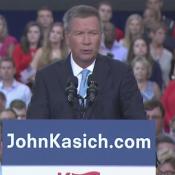 Kasich tied for seventh place with Carly Fiorina in last night's Iowa caucuses.
Courtesy of WKSU file photo
Download (WKSU Only)
As expected, Gov. John Kasich didn't do well among the Republican presidential candidates in the Iowa caucuses.

He finished tied for seventh with Carly Fiorina, both with just under 2 percent. Kasich had focused his campaign on New Hampshire, figuring he could perform better with face-to-face campaigning in a smaller state with fewer extremely conservative voters.

But University of Cincinnati political science professor David Niven says he has his work cut out for him.
"To really make his mark in New Hampshire, he really has to shock us all and knock off one of the big candidates," said Niven. "And the trouble for him is, all of the excitement out of Iowa is going to focus on other candidates and none of it is going to come his way."

John McCain followed a similar strategy, winning New Hampshire in 2008 and becoming the Republican nominee. But Niven notes Jon Huntsman tried a similar tactic in 2012, finishing third and then fading out of the race.
Page Options
Print this page
---
---
---
---
Stories with Recent Comments