Loading...


From WKYC.COM / TV 3
Get the latest school closings and delays
Climate and Weather



Friday, January 8, 2016




Northeast Ohio ski resorts working around less than ideal weather




They've made enough snow to keep things going despite wide swings in temperature


by WKSU's KEVIN NIEDERMIER


Reporter
Kevin Niedermier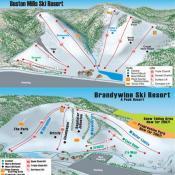 The Boston Mills/Brandywine ski resorts in Summit County are open despite some less than wintery weather.
Courtesy of BMBW
Download (WKSU Only)
Northeast Ohio's ski slopes have opened for the season, but that's only a few days later than last season. Rickey McMullen is spokesman for the Brandywine, Boston Mills and Alpine Valley ski resorts. He says temperatures were finally cold enough just after the start of new year to make some snow and open this week. Temperatures in the low 50s are forecast for this weekend before dropping into the 20s late Sunday with snow likely. But McMullen says most slopes will remain open this weekend.
"We've got just about total coverage but not all runs are open at this time as we're pushing the snow around, and also anticipating some of these warmer days we have coming up ahead of us. So we're leaving some of the snow in piles to preserve as much of it as possible until it gets cold again next week and we're able to start making snow again."
McMullen says more than below-freezing temperatures are needed to make snow. He says temperatures need to stay low for several days. And snowmaking also depends on humidity, the amount of sunlight, and wind speed and direction.
Page Options
Print this page
---
---
---
Stories with Recent Comments