Loading...


From WKYC.COM / TV 3
Get the latest school closings and delays
Government and Politics



Thursday, December 17, 2015




Ohio's Sen. Portman could support "no-fly list" gun-buying prohibition




Ohio's U.S. senator says his support depends on changes giving recourse for people mistakenly on the list


by WKSU's KEVIN NIEDERMIER


Reporter
Kevin Niedermier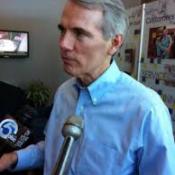 U.S. Sen. Rob Portman says changes to the no-fly list could lead to his support for banning people on that list from buying guns.
Courtesy of WKSU
Download (WKSU Only)
Ohio's U.S. Sen. Rob Portman and President Obama may have something in common when it comes to gun control. Portman, who generally opposes stricter gun laws, says he can back the president and other lawmakers when it comes to preventing people on the terrorist "no-fly list" from buying a gun.

But the senator says first a way must be found to correct flaws for people who are on the list incorrectly.
"They may go to buy a firearm and find out to their surprise they're on the no-fly list inaccurately, and yet there's no way for them to appeal that. So that's what we're working on right now is coming up with an appropriate way to be able to appeal to be sure you're properly on the list. But otherwise I think that's one that can be done."
The National Rifle Association and ACLU have deemed the"no-fly list" unconstitutional because of these flaws. President Obama is working on plans for stricter background checks for all gun buyers, including purchases at gun-shows.
Page Options
Print this page
---
---
---
Stories with Recent Comments