Loading...


From WKYC.COM / TV 3
Get the latest school closings and delays
Sports



Wednesday, December 16, 2015




Pluto: Manziel makes strides, but can he handle the pressure of success?




The Browns quarterback looks solid in his return from the bench, but Pluto says he's cautiously optimistic


by WKSU's AMANDA RABINOWITZ


Morning Edition Host
Amanda Rabinowitz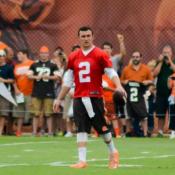 "Can he handle the physical pounding of being an NFL quarterback? Can he stay in the pocket? And some of these things he's answering," Pluto says
Courtesy of commons.wikimedia.org
Download (WKSU Only)
Browns fans saw a glimmer of hope this past weekend in a young quarterback whose career has gotten off to a tumultuous start. Johnny Manziel led the dismal Browns to a win over the 49ers on Sunday, fresh off being benched for lying to coaches about his bye-week partying. WKSU commentator Terry Pluto says Manziel was impressive after having been all but written off by coaches and fans.
Terry Pluto says quarterback Johnny Manziel had his best game as a pro this past weekend. He passed for 270 yards and a touchdown as the Browns (3-10) beat the San Francisco 49ers 24-10 to snap a seven-game losing streak.

Cautiously optimistic
It helped calm fans' frustrations, at least temporarily. Browns fans have been waiting for the team to have a quarterback they can count on since the days of Bernie Kosar. Still, Pluto says fans are afraid to get their hopes up. "What the rise of Johnny in Sunday's game did, along with a couple other decent games he's had along the way is, in a 3-10 season you have people who actually want to watch the games," Pluto says.

And he says it's important that fans don't entirely tune out with three games left in the season. "You certainly can't sell them winning right now. You can't even sell them about having a coach that's going to be around, because we don't know whether Mike Pettine will be back or not. We don't know if General Manager Ray Farmer is going to be back or not."

Still a lot to prove
Meanwhile, the Browns have a lot to consider in Manziel. "Can Johnny Manziel play? He's 5'11"- he says he's 6 ft. He weighs about 200 lbs. Can he handle the play book? Can he handle the pressure of being an NFL quarterback? Can he handle the physical pounding of being an NFL quarterback? Can he stay in the pocket? And some of these things he's answering."

And, Pluto says Manziel has a lot to prove, not only for his job in Cleveland, but for other potential NFL teams. He's under contract for next year, but the Browns could cut or trade him."The Dallas Cowboys are looking for a quarterback - that's no secret. Their owner, Jerry Jones, loves Johnny Manziel."

Pluto has been a Manziel critic ever since the team drafted him two years ago. "I didn't think he would adapt to the NFL game as quickly as he has. So, I'm encouraged by that point. I would not have been surprised if he had failed already because my view of him was so negative. I just didn't think he could handle the stuff on the field. I have to admit, on the field he's been much, much, much better than a year ago, enough for me to say, as a skeptic, I want to see more."

A new test
Still, Sunday's win was against a 4-8 team. This coming week, they'll face the 8-5 Seattle Seahawks, which will be a bigger test for Manziel. "I think they're not going to be able to run the ball as well so there will be more pressure on how will Johnny throw, how's he going to hold up?

"If you're a Browns fan, it's something to watch. If you're the coaches, now you're watching, how does he handle success? Because clearly they are very worried about his activities off the field. Now, the players -- as long as it's not illegal, they don't care what he's doing off the field as long as they win. So, they're looking at the bottom line in the same way a lot of fans are. [The question is] Does this guy make us a better team? Especially when you're 3-10 and the Browns and you lose all the time."

"This is now the fifth time in the last six years that three quarterbacks have started in the season for the Browns. Only once since they've been back in 1999 did a quarterback start all 16 games and that was Tim Couch. And he was so beat up that his career was over by about 2004."

Other options:
MP3 Download
(6:16)
Page Options
Print this page
---
---
---
---
Stories with Recent Comments