Loading...


From WKYC.COM / TV 3
Get the latest school closings and delays
Government and Politics



Thursday, December 10, 2015




A Cuyahoga judge is deciding who will train Cleveland's next police cadets




The city wants a temporary restraining order lifted so cadets can train with the Ohio State Highway Patrol


by WKSU's KEVIN NIEDERMIER


Reporter
Kevin Niedermier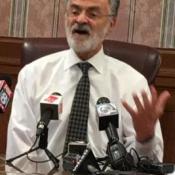 Mayor Frank Jackson talks about the impact of a temporary restraining order on the city's options for training its next group of police cadets.
Courtesy of Kevin Niedermier
Download (WKSU Only)
Cleveland officials are waiting to see where the next class of police cadets will be trained.

A Cuyahoga County judge is deciding on the city's request to lift a temporary restraining order blocking it from sending 50 recruits to the Ohio Highway Patrol Training Academy in Columbus. That free training was to begin yesterday and will be lost if the issue isn't resolved soon.

The Cleveland Police Patrolman's Association requested the restraining order. The union says, among other things, that the city doesn't have the authority to move the academy without approval from City Council and the Civil Service Commission. Mayor Frank Jackson says if the order isn't lifted soon, the city will have to reestablish its mothballed training academy.
"Which will cost us overtime. If we don't get this thing resolved in our favor today, tomorrow, whenever, then we'll be faced with the fact that these cadets will not be brought on for another month, and it'll cost us money."
Jackson doesn't know how much it would cost, but says that money could be used to help pay millions to reform the city's police force under a consent decree with the Department of Justice. The court hearing on lifting the temporary restraining order will continue today.
Page Options
Print this page
---
---
---
Stories with Recent Comments