Loading...


From WKYC.COM / TV 3
Get the latest school closings and delays
Cuyahoga County



Tuesday, November 24, 2015




Cleveland's zoo is getting $2.1 million for its new tiger exhibit




The donation is the single largest in the zoo's 50-year history




by WKSU's MICHAEL BRATTON



Reporter
Michael Bratton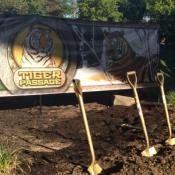 The new exhibit will be named the Rosebrough Tiger Passage after the family donated more than $2 million for the exhibit's construction.
Courtesy of Chris Kuhar, Twitter
Download (WKSU Only)
The Cleveland Metroparks Zoo is getting a donation of more than $2 million for its new tiger exhibit. The money was donated by Walt and Carol Rosebrough of Mentor-based medical equipment manufacturer, Steris Corporation. Zoo Executive Director Chris Kuhar says having community support, like the Rosebrough's, is important to the improvement of the zoo.
"What these funds allow us to do then is really to invest in the infrastructure that allows our animal care teams, our vet services team, our science teams to really provide the best care for tigers in this case, but this is just one step," said Kuhar. "We're going to be looking to do this with a number of our exhibits moving forward and to have the support of the community is really important for us."

The Zoo says this is the single-largest donation in its history. The new $4.1 million exhibit will be five times larger than the previous one and will allow tigers to move among multiple habitats. It's set to open next year.
Page Options
Print this page
---
---
---
Stories with Recent Comments