Loading...


From WKYC.COM / TV 3
Get the latest school closings and delays
Sports



Wednesday, November 25, 2015




Pluto: How the Zips became a college soccer powerhouse




Terry Pluto says NCAA sports like soccer have a structure that lets smaller schools thrive


by WKSU's AMANDA RABINOWITZ


Morning Edition Host
Amanda Rabinowitz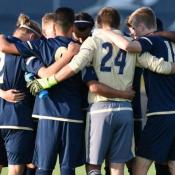 Akron's soccer team has been to the NCAA tournament nine years in a row and is eyeing its second national title
Courtesy of University of Akron
Download (WKSU Only)
The University of Akron men's soccer team has its eye on a second national championship. The Zips are considered a front runner heading into the third round of the NCAA tournament this weekend. WKSU commentator Terry Pluto talks about how Akron has built an elite soccer team.
The University of Akron men's soccer team has been to the NCAA tournament nine years in a row -- Only four other schools have accomplished that in NCAA history: Virginia, Maryland, UCLA and Indiana.

Akron won the title in 2010, but since then, they haven't made it past the third round of the tournament. Last year, they were bounced in the first round against Ohio State. Still, Akron Coach Jared Embick has said he thinks this could be their year.

"Akron can legitimately in soccer play against the best in the country and recruit against the best in country," Pluto says.

How they succeed
First, Pluto says collegiate soccer is able to offer 10 scholarships versus 85 in football. "It's not like you need this enormous budget for soccer. The rules are set up in the same way that Kent has a good golf team and baseball. These 'lesser sports' with a smaller pool of scholarships allows your mid-majors to play like a major power if you have the right coach and athletic director and administration to see it."

Second, Pluto says the guy that took Akron soccer to an elite level was Caleb Porter, who coached the Zips from 2006-2012. He guided the team to its national championship in 2010. Now he's the head coach of the Major League Soccer Portland Timbers. "Salaries for coaches are not so insane in soccer that some guy is going to come in and pay Caleb Porter from another college two or three times what he's making in Akron. So, if you lose him, it had to go to the pro level."

Pluto says the formula for soccer also allows teams to sustain the success. That's different from football, as evident when Kent State went to a bowl game in 2012 and hasn't come close to matching that run since. "It's harder in football and basketball. The main thing is the arms race is totally out of hand. In soccer, there is an arms race, but it's such a smaller scale that schools such as Akron can compete," Pluto says.

Hitting the books
And, Pluto says Akron's soccer team is academically-focused. The G.P.A. for team in recent years has either been 3.3 or 3.4. "Akron has 10 first-round picks in the MSL draft over the years but it's not a one-and-done thing where you play one year at Akron and then go to the MSL. They're there to get a degree."

The next round at home
Akron hosts SMU on Sunday at 4 p.m. in the third round of the NCAA tournament.

"I think once in a while, Akron fans need to say, 'We need to be very grateful for what we have here.'" And, most of the games are played here. "Their average attendance this year is over 2,100. I just think it's something that's going on right under our nose here. Big time college soccer right here in Akron."


Other options:
MP3 Download
(8:45)
Page Options
Print this page
---
---
---
---
Stories with Recent Comments