Loading...


From WKYC.COM / TV 3
Get the latest school closings and delays
Economy and Business



Thursday, August 6, 2015




Akron coding 'boot camps' could expand thanks to federal grant




The city could apply for up to $6 million in grants under the federal TechHire program


by WKSU's KABIR BHATIA


Reporter
Kabir Bhatia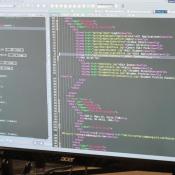 Akron's coding 'boot camps' start with basics such as HTML and CSS coding; students that take to the pre-work then proceed to the 12-week program that requires 70-80 hours of work each week
Courtesy of BILL RICE
Download (WKSU Only)
A federal program has added Akron to its list of cities that can apply for up to $6 million for high-tech job training programs. WKSU's Kabir Bhatia reports.
The TechHire program is a White House initiative to rapidly train workers in areas where employers have shown a need for tech-savvy talent. Since 2013, the Akron Global Business Accelerator has offered a coding boot camp through its Software Guild, and the grant money could go to expanding that program. Eric Wise founded the program, and says it's not unlike apprenticeships that have been training people for hundreds of years.

"We've been mixing professional developers with amateurs and letting them transfer their knowledge and transfer their skills down. And that's translated into a 95 percent job placement rate.

"They'll start out learning how computer programs execute. And then we start introducing them to some of the easier concepts, like HTML and CSS and how to build simple web pages. And if they really take to that, then we can start bringing them into the boot camp and give them the intensive [training in] 'here's all the skills you're gonna need to start your job.'"

Wise's program helps people with no software skills get training and land jobs in the industry, and it was recently acquired by online education company The Learning House. He says about 100 people go through the boot camp each year, and the federal money could double or even triple that number. Some of the work might be done at the Akron-Summit County Public Library. The TechHire grants are expected to be announced in 2016.


Page Options
Print this page
---
---
---
Stories with Recent Comments