Loading...


From WKYC.COM / TV 3
Get the latest school closings and delays
Government and Politics



Tuesday, July 28, 2015




Ohio lawmakers propose grants for home construction for disabled people




Stinziano and Grossman say it will serve individual and state needs




by WKSU's STATEHOUSE CORRESPONDENT JO INGLES



Reporter
Jo Ingles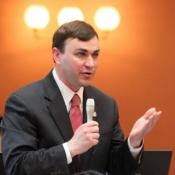 Stinziano says the bill could help keep people like his grandparents in their homes.
Courtesy of State of Ohio
Download (WKSU Only)
Two Ohio lawmakers are sponsoring a bipartisan bill that would give Ohioans grants of up to $5,000 to make their existing homes more accessible for disabled people or to build accessible features into new homes. That includes features like wider doors and lower cabinets. Democratic Rep. Mike Stinziano says the state has a vested interest in making sure Ohioans with disabilities are able to stay in their own homes or can visit close family members. That's why he says the grants would not be limited only to people who already have disabilities.
"So if it's the family member who went out to get a grab bar for the shower, a ramp or to widen a door, you would pay that cost up front and then seek reimbursement through the grant program,"
The bill would allocate $1 million annually to the grants.
---
---