Loading...


From WKYC.COM / TV 3
Get the latest school closings and delays
Health and Medicine



Monday, May 25, 2015




The generation gap in care for developmentally disabled Ohioans




Officials are debating how to spend $316 million that could be provided for people with developmental disabilities




by WKSU's STATEHOUSE CORRESPONDENT JO INGLES



Reporter
Jo Ingles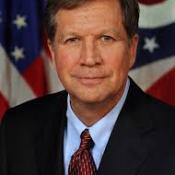 Gov. Kasich's proposed budget sets aside $316 million for developmentally disabled Ohioans
Courtesy of Governor Kasich
Download (WKSU Only)
The care of Ohioans with developmental disabilities has changed dramatically through the past few decades. Gov. Kasich's proposed budget provides $316 million for developmentally disabled Ohioans. But as Ohio Public Radio's Jo Ingles reports, there's a generation gap of sorts now, especially when it comes to funding.
A few decades ago, people with developmental disabilities were often placed in large institutions that were supposed to meet their needs. Many of those facilities have been shuttered. And money and services are being provided for programs to help developmentally disabled people remain in their homes and community settings.

Gary Tonks is executive director of the ARC of Ohio, an advocacy group. In a recent forum at the Columbus Metropolitan Club, Tonks explained a generation gap of sorts has developed in the philosophy over how best to care for people with developmental disabilities. He says older Ohioans still want state and local dollars to go to group homes and institutions that they created for their children years ago.

"T,their children weren't allowed to go to public schools. They weren't allowed to be competitive in the real world. So we built on our citizens of color and all of the lawsuits and fights that they fought and created a system out of necessity," Tonks explains.

A different view
Now, Tonks says, many younger families view developmentally disabilities very differently. The younger parents no longer want facilities for their children. They don't want the segregated day facilities that are available through agencies like Goodwill. They want more individualized services and programs to help people live independently in their communities.

Tonks says these days, state and federal dollars are largely being directed toward those services.

Person- or facility-centered
"It includes what we wanted. It includes things that are person centered, not facility driven. Yet we have families who are concerned that if I give you the choice of living independently, how will that affect my choice when I like Goodwill Sheltered Workshop and I like the intermediate care facility? How does that affect my choice? And I think we need to answer those questions for those families," Tonks says.

Tonks says the current system of funding for services is based on deficits -- what you can't do and what you don't have. He says it should be based on abilities and how to help each person live to his or her full potential. As an example, he tells the story of a young man with disabilities who worked at the home and garden megastore, Lowe's.

"They employed him in the garden department. And he was struggling. And they actually talked to him about why he was struggling. He says it was because the color of the flowers is not good. It doesn't look good. They redesigned their garden department so that the coloring of the flowers was more pleasing to him and their sales went up," Tonk tells the forum.

Looking at waivers
The director of the Ohio Department of Developmental Disabilities, John Martin, says the state's policies on disabilities tries to continue to provide money for institutions and facilities for those who need them. But he says the state is also experimenting with waivers with the flexibility to help people succeed in less restrictive environments.

"It is a waiver that doesn't have as much funding in it, but it has more flexibility in it with the idea of giving people more choices. And we hope that waivers like that become part of the future as well, offering real cost-effective alternatives to some of the real expensive comprehensive services that exist today," Martin explains.

The idea behind these new waivers is that money can be provided for a caregiver for a few hours or to make small improvements and repairs that can help a developmentally disabled person stay in their own home. As care for developmentally disabled Ohioans continues to evolve, proponents hope the cost will decrease as communities put more emphasis on what these people can do and how they can help to sustain themselves.
Page Options
Print this page
---
---
---
Stories with Recent Comments