Loading...


From WKYC.COM / TV 3
Get the latest school closings and delays
Government and Politics



Tuesday, April 28, 2015




Cleveland property survey will start in late May




The Western Reserve Land Conservancy will survey all 175,000 parcels in the city




by WKSU's LYNDSEY SCHLEY



Reporter
Lyndsey Schley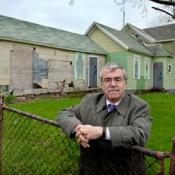 Director Jim Rokakis says the survey will allow Cleveland to better use its resources.
Courtesy of Thriving Communities Institute
Download (WKSU Only)
The Western Reserve Land Conservancy briefed Cleveland City Council today on an upcoming project to take an inventory of every property in the city. Jim Rokakis is the director of the Thriving Communities Institute at the conservancy. He says surveyors will go to all 175,000 parcels in Cleveland, take a photograph of the property and fill out a condition report. Rokakis says Cleveland has 10,000 to 12,000 vacant houses and limited resources to tear them down. He says the data can help the city decide what projects will have the most impact.
"As a result of the foreclosure crisis, you might find one empty and abandoned home in a sea of very well-maintained properties and that's a property that needs to be taken care of or it will destroy neighborhood confidence," Rokakis says.
The conservancy has done similar projects in Akron and Lorain.
Rokakis say his surveyors will start during the last week of May. It's expected to take four months and he hopes to have the data by late fall.
Page Options
Print this page
---
---
---
Stories with Recent Comments