Loading...


From WKYC.COM / TV 3
Get the latest school closings and delays
Government and Politics



Sunday, February 1, 2015




Ohio's Sen. Portman pushes fast-track trade, which may be a campaign issue




NAFTA and other trade deals have proven controversial in Ohio


by WKSU's M.L. SCHULTZE


Web Editor
M.L. Schultze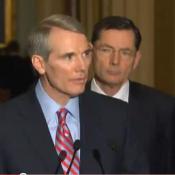 Portman says U.S. is sidelined by lack of trade authority.
Courtesy of File photo
Download (WKSU Only)
Ohio's Sen. Rob Portman is pushing Congress to give President Obama the ability to negotiate fast-track trade deals. Under what's called Trade Promotion Authority, Congress must vote up-or-down on trade deals negotiated by the administration – with no amendments or filibusters. Portman, who was also the trade representative for President George W. Bush, says the authority is an important bargaining tool.
"It makes so much sense to give them the ability to knock down barriers for Ohio workers, Ohio farmers, Ohio service providers. The alternative is the U.S. just sits on the sidelines while other countries complete these agreements and we lose market share. We get cut out."
But trade deals such as NAFTA have been unpopular in Ohio, especially among unions. And former Gov. Ted Strickland – who is considering a run against Portman – has indicated that he would be running in part against Portman's trade record.
---
---