Loading...


From WKYC.COM / TV 3
Get the latest school closings and delays
Economy and Business



Thursday, January 8, 2015




Friends and strangers may save the Akron bridal shop hit by the Ebola scare




Owner had announced on Facebook that the business could no longer make a go of it


by WKSU's TIM RUDELL


Reporter
Tim Rudell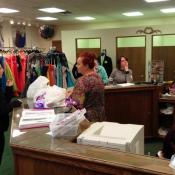 Coming Attractions Bridal & Formal announced it's going out of business at 1220 E. Tallmadge Ave., Akron
Courtesy of WKSU
Download (WKSU Only)
The Akron bridal shop that took a real financial hit following the visit of Dallas nurse Amber Vison may survive. WKSU's Tim Rudell says something unexpected has happened at Coming Attractions Bridal and Formal.
Coming Attractions Bridal & Formal owner Anna Younker said this week that her customer base of 21 years is gone; "it's over" for the business, and she's shutting it down.

Then the calls started: from friends and even people she didn't know talking of financing and options like crowd funding -- and from Akron Mayor Don Plesquellic.


Kayla Litz is Younker's store manager and friend.

"We've had people call and ask permission to start the 'Go Fund Me accounts,' and we've
had an offer from the mayor for assistance -- with a possible new location that the city of Akron could help us with. We just never expected anything like this."

Litz says liquidation of the Tallmadge Avenue store must continue to meet obligations. But the possibly of reviving the business is alive again.

Litz on the pressure facing Coming Attractions:



Other options:
Windows Media
/
MP3 Download
(0:25)
---
Related WKSU Stories
Summit County tallies the cost of the Ebola scare
Monday, November 17, 2014
One month later, Summit looks back at Ebola and towards the next outbreak
Monday, November 17, 2014
Northeast Ohio evaluates its Ebola response
Friday, November 7, 2014
Ohio ends Ebola monitoring
Wednesday, November 5, 2014
42 people removed from Ebola contact list in Ohio
Monday, November 3, 2014
Ebola-free Amber Vinson thanks God, family, caregivers -- and heads home
Tuesday, October 28, 2014
Page Options
Print this page
---
---
---
Stories with Recent Comments