Matt Kelly is showing me around the Akron facilities where Goodyear Tire and Rubber manufactures race tires. He's a business center manager here. He is also one of many veterans Goodyear has hired over the years.
Kelly retired from the Air Force in 1994 and the Ohio Air National Guard last year. He served tours in Iraq in 2004 and 2009 while he was working for Goodyear. He says it is hard to return to civilian life after a deployment and so he was lucky to work for a company that valued him.
The Goodyear family
"It tough to transition when you get back, but there's a lot of help on the military side," Kelly said. "One thing I didn't expect was help from the Goodyear side. A lot of people helped me get back into my civilian job so there was a lot of support here from my Goodyear family."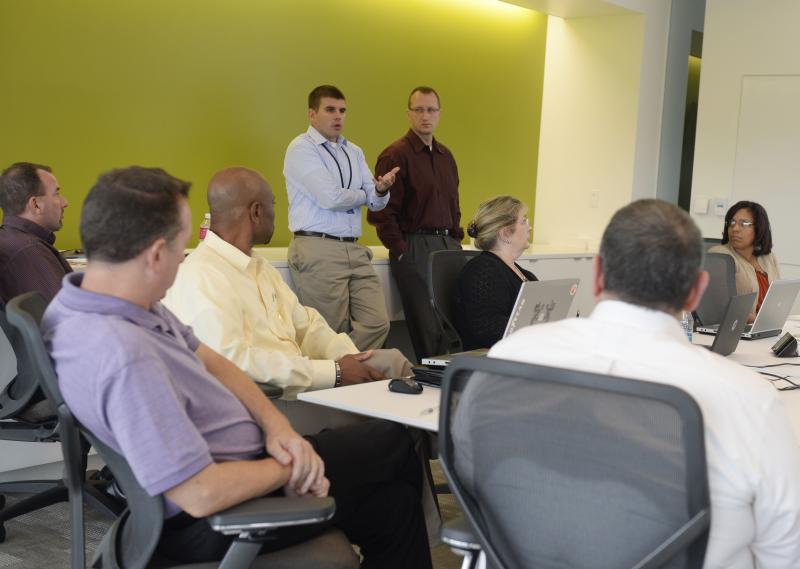 For Goodyear veterans, a group is trying to be a big part of that family. The Goodyear Veterans Association, also known as the GVA, is a group within the company that helps human resources evaluate veteran applicants. The association also provides networking and mentorship opportunities within the company to help vets excel.
For example, Kelly says his time in the service taught him a lot about being a leader.
"The experiences you have in the military really, really help when you come into the civilian world as far as leadership and management principles," Kelly says. "You pick up a lot from all the things you're going to be involved in the military and you can translate easily to your civilian occupation."
Doubling down
Manager of Talent Acquisition Michele Rankin says Goodyear values the skills people like Kelly can bring to their company.
"Many of the veterans that we've hired have demonstrated many skill sets that we value here at Goodyear and that's proven leadership, effective problem solving, courageous decision-making and a lot of the veterans already possess the technical expertise that translates well into the tire industry," Rankin says.
That's why Goodyear doubled down on a promise it made two years ago to hire 1,000 veterans. That commitment is one of the reasons the company has been recognized by G.I. Jobs magazine as one of the top 100 military friendly companies.
The national unemployment rate for Veterans is 9 percent. Even when you compare that only with people of a similar age, vets have about 1.5 percent higher unemployment.
Helping to translate
Association member Chris Banweg says he believes part of that is because veterans' skills can get lost in translation on a civilian resume.
"Today, employers can be very selective about the people they pick up and they look for, readily, certification and proof of experience and if you don't have certification, it can move you out of selection," Banweg says.
He says veterans might have even more experience than other applicants, but have not been able to get the certification before leaving the service.
"So use a different process and look at them to see where there's value because they'll get the certifications if you give them the chance but just coming out of active duty you often haven't had time to complete the schooling of check the box on a certification that a business would have put you through," Banweg says.
Helping civilian workers, too
Association Vice President Tom Peeples says the organization is not only open to veterans. He says it allows people who never served to have a better understanding of their coworkers and is part of the company's diversity and inclusion efforts.
"Part of inclusion is understanding who these people are who are coming from a different culture and making sure that fit in our culture from the moment they walk in the door," Peeples says.
Association President Chris Wozniak says the difficulties a transitioning veteran faces may be surprising to someone who has never experienced it.
"Making a doctor's appointment, where do I go to see the dentist and what happens if I get sick at work? Who do I fill out as my doctor? Never before did you worry about that in the military," Wozniak says. "There are a lot of I call them 'big boy decisions' that are kind of made for you in the military and once you get out, you have to make those decisions for yourself."
While it is not exactly like the military, Peeples says the Goodyear Veterans Association is trying to help new veteran-hires feel like they are not making that transition entirely on their own.
"Their first day in the door there's a member of the GVA that shows up at their desk or wherever they work that greets them and lets them know that there are others like them here," Peeples says,
And if Goodyear's plans pan out, there are going to be even more.