Loading...


From WKYC.COM / TV 3
Get the latest school closings and delays
Environment



Monday, July 1, 2013




Ohio lawmakers deem most radioactive fracking waste safe for landfills




Ohio lawmakers narrow the definition of radioactive materials from fracking operations as part of new state budget


by WKSU's JEFF ST. CLAIR


Reporter / Host
Jeff St. Clair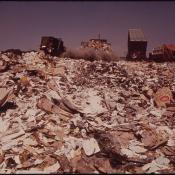 Landfills receive all sorts of waste, as seen in this historic photo of a dump in Garfield Hts. Ohio landfills can also accept radioactive waste from oil and gas drilling operations under a narrow definition of radioactive minerals in the latest Ohio budget.
Courtesy of Frank J. Aleksandrowicz
Download (WKSU Only)
The new two-year state budget signed by Gov. John Kasich on Sunday doubles the funding for the state agency that regulates oil and gas drilling. And environmentalists are pleased with other provisions of the massive spending bill. Jack Shaner, deputy director of the Ohio Environmental Council, notes the budget increases funding to fight toxic algae blooms in Lake Erie, and adds $52 million to the Clean Ohio Fund that allows park districts to purchase land. But Shaner says the budget does not do enough to regulate radioactive waste from the oil and gas drilling industry. Shaner says fracking brings up large amounts of radioactive minerals from deep underground that under the new law are treated like ordinary waste.
"Our landfills in Ohio are in for truck load after truck load ... of drill cuttings, radioactive materials, and it ought to be carted away to landfills that are specifically designed, engineered, and regulated for this sort of radioactive waste. That's not the plan in Ohio and we think that's a real failing."

Shaner says Ohio lawmakers are using a narrow definition for radioactive minerals that exempts the majority of material brought up during fracking from being tested for radioactivity.
---
---