Violinist Diana Cohen and her clarinetist father Franklin are co-artistic directors of ChamberFest Cleveland. Timpanist
Alexander Cohen is one of the 25 participating artists, and the second season is now underway.
Among the highlights: the world premiere of Matan Porat's "Start-Time" written for the family trio.
It's very contemporary and quite rare. Not many pieces are written for clarinet, violin and timpani.
An unusual combo and crazy rhythms
When Diana Cohen commissioned the piece she told the Israeli composer the title of the festival: "It's About Time", and he took it literally.
"In terms of time, he's written some very complicated rhythms. When he wrote us emails about this piece he said, 'It's very simple; you'll just throw it together.' Famous last words. Three rehearsals later."
At rehearsal, they laugh a lot but also hassle a bit about balance. Franklin Cohen asks his son to play the timpani more softly and Alexander says he's playing as softly as he can.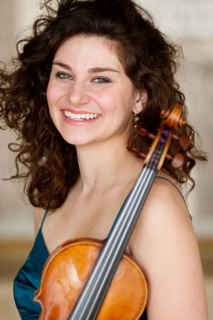 "We were laughing about this yesterday," says Franklin Cohen. "I said, 'We don't tell our friends who we're rehearsing with how to do it or how not to do it. We just happen to be confronted with this very difficult piece to play.'"
"I said last night at dinner, 'How do you think our rehearsal went today?' says Diana Cohen. "And we were just laughing that if we interacted in the same way with complete strangers, people would never play with us again."
A note of sadness
Franklin Cohen says it's wonderful to have his children back in town and to perform with them, but sad that their mother won't hear the music.
ChamberFest Cleveland is dedicated to the memory of bassoonist Lynette Diers Cohen, who died in 2003. She was a champion of new music and one of the founding members of Cleveland's Red: An Orchestra.
"I think she would love the ChamberFest that we've created," says Diana Cohen. " It sort of combines all her favorite elements of life, which were chamber music and friends and food."
Some unusual venues
The concerts began late last week and continue through Sunday with an encore of Porat's "Start-Time" Saturday night at the Cleveland Institute of Music.
This week the music of Brahms, Ravel, Gershwin, Stravinsky, Messiaen and more will be heard at six different venues including the Cleveland Institute of Music, Harkness Chapel at Case Western Reserve University and the Wine Spot in Cleveland Heights.
Among the musicians in the festival are violist Yura Lee and cellist Robert deMaine of the L.A .Philharmonic, and some
of Franklin Cohen's students. In addition to being the Cleveland Orchestra's principal clarinetist, he heads the clarinet program at CIM.
Diana Cohen started playing violin at age 5. She's now the concertmaster of the Calgary Philharmonic where her brother Alex, who also fell in love with music at age 5, is the principal timpanist.
Just like home
They grew up playing music together and listening to Cleveland Orchestra musicians playing chamber music with their parents at home.
"We've always had people over, eating, playing, talking, having a great time, laughing, crying together." says Franklin Cohen.
"It's what the kids have known since their earliest childhood. So life hasn't changed. We will play our concerts around town and then we'll probably go home to my house and party and have a great time afterwards. And then we'll all need a vacation."
ChamberFest Cleveland upcoming events:
Coffee and Conversation
Tuesday June 25, 6 p.m.
The Temple-Tifereth Israel, 26000 Shaker Blvd., Beachwood
Composer Patrick Castillo on upcoming ChamberFest concerts.
FREE – no ticket required

Nosh at Noon
Wednesday June 26, Noon-1 p.m.
The Idea Center, 1375 Euclid Avenue, Cleveland
Sampling of music to be played in the series
Bring your lunch; FREE – no ticket required
Layers: The Architecture of Time
Wednesday June 26, 8 p.m.
Mixon Hall, Cleveland Institute of Music, 11021 East Blvd., Cleveland
Biber's Battalia a 10 in D major, C. 61
Norman's The Companion Guide to Rome (2012 Pulitzer Prize finalist)
Part's Spiegel im Spiegel
Brahms' String Sextet no. 2 in G major, Op. 36
7 p.m. Composer Andrew Norman discusses his work in a pre-concert talk; Post-concert Q&A with musicians
Movie Night
Thursday June 27, 7 p.m.
Cedar Lee Theater, corner of Cedar and Lee Roads, Cleveland Heights
Buster Keaton in the 1926 silent classic,"The General." Musical accompaniment improvised by Israeli-born pianist and composer Matan Porat.
Wine tasting and a cabaret-style concert at the Wine Spot, a few doors down on Lee from the movie theater. (Ticket required)
A Tempo
Friday June 28, 8 p.m.
Harkness Chapel, 11200 Bellflower Rd., Cleveland, Case Western Reserve campus
Ginastera's Pampeana No. 2
Ravel's Piano Trio in A minor
Gershwin's Three Preludes
Messiaen's Theme and Variations
Schumann's Piano Quartet in E-flat major, Op. 47
- 7 p.m. Pre-concert talk with composer Patrick Castillo
Riot (Like It's 1913!)
Saturday June 29, 8 p.m.
Mixon Hall, Cleveland Institute of Music, 11021 East Blvd., Cleveland
Porat's Stop-time (world premiere)
Haydn's Trio in E major, Hob. XV: 28
Brahms' Clarinet Quintet in B minor, Op. 115
Stravinsky's The Rite of Spring, 100th Anniversary.
7 p.m. Pre-concert talk with composer Patrick Castillo; Post-concert reception with the artists (No Ticket Required)

Mirrors
Sunday June 30, 3 p.m.
Dunham Tavern, 6709 Euclid Ave., Cleveland
The concert will be held in this historic landmark's beautifully restored barn.
Purcell's Fantasia Upon One Note
Purcell's Chaconne from The Fairy Queen
Britten's String Quartet No. 2 in C major, Op. 36
Mendelssohn's String Quintet No. 1 in A major, Op. 18.
2 p.m. Pre-concert talk with composer Patrick Castillo; Complimentary ice cream from Mitchell's Homemade
PARTICIPATING ARTISTS:
Violin: Noah Bendix-Balgley, Yehonatan Berick, Diana Cohen, Ying Fu, Yura Lee, David Carroll, Amy Schwartz Moretti
Viola: Noah Bendix-Balgley, Yu Jin, James Larson, Yura Lee, Dimitri Murrath
Cello: Julie Albers, Gabriel Cabezas, Robert DeMaine
Bass: Scott Dixon, Tracy Rowell
Piano: Orion Weiss, Matan Porat
Clarinet: Franklin Cohen
Percussion and Timpani: Alexander Cohen, Scott Christian, Steve Moretti
Composers: Andrew Norman, Matan Porat
Lecturer: Patrick Castillo
TICKETS:
Single Tickets: $10 students; $25 young adult (under 35); $40 general admission
VIP Festival Pass: $330. Priority seating for all concerts, plus entrance to after-parties
Festival Pass: $230. Access to all concerts and after-parties
Pick 5 Concerts, including after-parties: $160
3 Mixon Hall Concerts at CIM: $110
For more: chamberfestcleveland.com or call the Box Office at 216-785-9977 between 10 a.m. and 3 p.m. daily.