Loading...


From WKYC.COM / TV 3
Get the latest school closings and delays
Arts and Entertainment



Monday, January 21, 2013




The March on Washington: 50 years later




Peter Yarrow remembers playing the March with Dr. Martin Luther King, Jr. 50 years ago


by WKSU's KABIR BHATIA


Reporter
Kabir Bhatia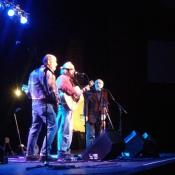 Peter Yarrow (right) regularly plays the Kent Stage as he tours the country. One of his earliest concerts with Peter, Paul and Mary was in front of more than 200,000 people at the March on Washington
Courtesy of K. Bhatia
Download (WKSU Only)
Fifty years ago this summer, Martin Luther King delivered his famous "I Have a Dream" speech in Washington, D.C. With him that day was an up-and-coming folk trio: Peter, Paul and Mary. WKSU's Kabir Bhatia spoke with Peter Yarrow about his role in the March on Washington.
In the summer of '63, Peter, Paul and Mary were riding high with concert appearances and hit records. But playing universities and folk clubs was about to give way to an event that would provide a beacon for the rest of their career. In Kent last week, Peter Yarrow says the group was both looking back and forward at the time.

"We just knew, inside ourselves, that there was an exuberance and a joy. And a sense of historical pain and outrage at what had occurred. But there was a commitment within us that was unbroken."

That commitment: to garner support for the Civil Rights Act. Standing on the steps of the Lincoln Memorial next to Bob Dylan, contralto Marian Anderson, religious and labor leaders, Yarrow and his cohorts electrified the crowd of a quarter-million people.

"When we started doing concerts we already had a taste of what it was like to sing 'If I Had a Hammer' in front of an audience. And to see something sparked in them when they sang it together that was only a little candlelight. A brilliant flood light coming from everywhere when we were standing there on that podium where Martin Luther King delivered his 'I Have a Dream' speech."

Yarrow still looks back and looks forward today at the promise fulfilled by the March on Washington.

"I carry this impression and this message and strength from being on that march. And that's true for anybody who was there. I don't care if they were in the crowd or on the stage. It was transformational. If we can gather our spirits together and make a commitment, we can achieve miracles. And we did! Because we have a president now who very well could have been chased by a lynch mob if we hadn't had that movement."

Within two years of the March on Washington, the Civil Rights and Voting Rights Acts would both become law. Peter, Paul and Mary had a string of hits until breaking up in 1970, then reformed a decade later and toured until Mary Travers passed away in 2009. But Peter Yarrow continues advocating for change, and is already slated to play a benefit this spring in Connecticut to honor those killed at Sandy Hook Elementary.


---
---